Building maintenance for safety
Building maintenance process is conducted on raise requirements from various sources for safety of peoples working in building & around it.
Building maintenance process is conducted when any individual person, audit or as per schedule had raise requirements to safety point of view, the person who had requested for the building repairing anywhere in the workplaces, offices, production or any warehouse etc., are needs to repair as the observation of individual person, observations from regular audit of heath and safety or schedule maintenance of civil engineers had pointed requirements are managed. Building maintenance process is conducted according to health and safety system and procedures that its prime requirements that health and safety system requirements should be complied during the maintenance activities, hence general safety of each employee are considered to maintenance of building are needs to care with nature disasters local requirements should also needs to considering as local government laws and regulatory requirements raised in case of. Building maintenance process is handled by concern civil engineering to communicate with maintenance department where electrical maintenance manager is actively participation required to manage the part of electricity, hence the computer system administration are also involved with safety office to manage and repairing works of building that required according to safety concern.
Building maintenance process is managed by civil authority to concern of safety teams guidelines and requirements of safety point of view, the safety officer is responsible for manage processes, documentation to building constructions, designing and other concern activities should be meet safety requirements, and approved by local government authority of design and maps and its also important for internal system. The requirements of building maintenance is raised that managed in documents and mentioned details of requirements are considering for maintenance activity, see picture below given as example format of building maintenance form format can used for managing records, below picture given for education purpose: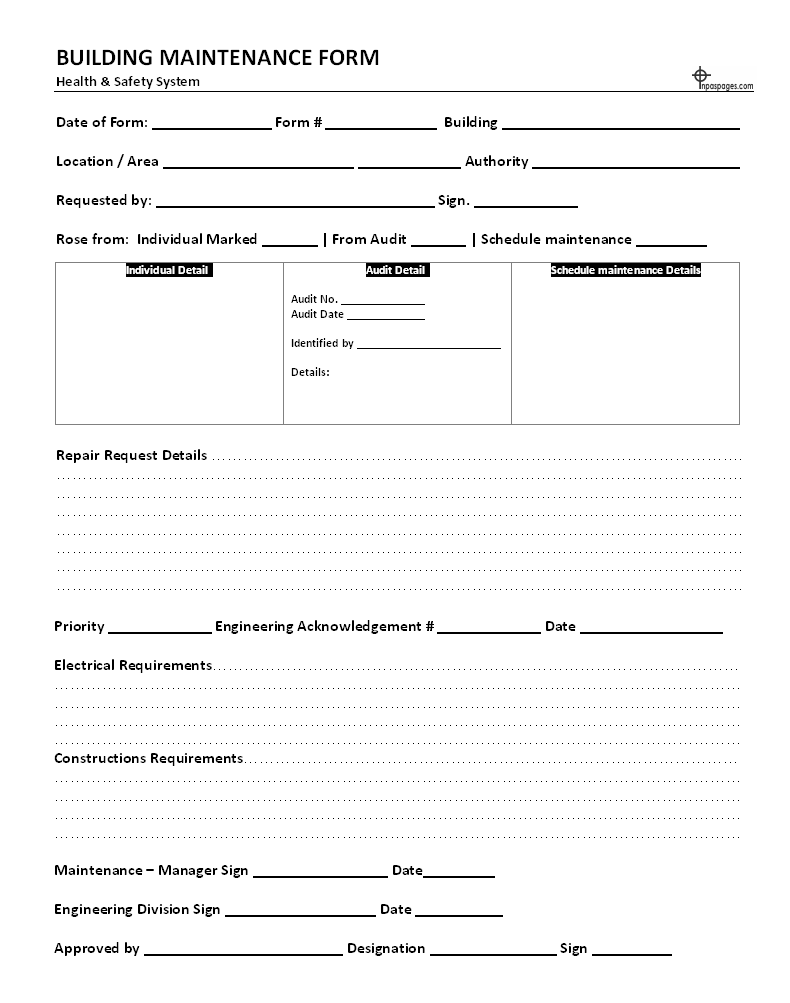 Building maintenance form format is used for recording information as well used to communication on requirements of building maintenance are identified during observations of individual, audit or as per scheduled by concern authority to maintenance, in all cases needs to filled the format required for further processing, the records of building constructions are maintained as per safety requirements that there are safety officers, electrical engineers, civil engineers and concern authority are involved in processes.
—————————————————————————-
Download format in word document | Excel sheet | PDF format
—————————————————————————-