Defect check sheet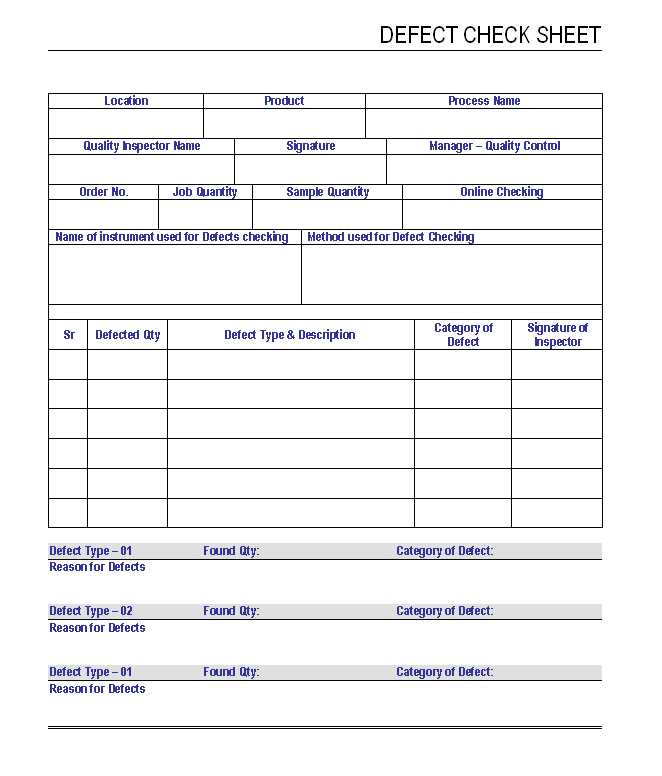 Location – Name of location where manufacturing operation and defect checking process are done.

Product – name of the product run on manufacturing process, defect checking is the separate process of the manufacturing process its individual checking method which works started during the manufacturing defect i.e. product defects are found. Recording of the defect in online individual method.

Process Name – Name of process running for manufacturing product, defect checking is the separately works on various processes are works to finalize product, during the product manufacturing process in case any defect found that all the information is recorded in defect check sheet.

Quality Inspector Name & Signature – Quality inspector is the responsible & accountable for the inspecting in process and final process quality checking, in process inspection that is defect checking of the product during the manufacturing process. Quality inspectors are also well aware of the production processes that all kindly of process and possible defect information which is previously founded during the in process inspection.

Manager quality control signature – Manager quality control signature is the formally of any inspection are done by quality peoples is approved by quality manager.

Order Number, Job Quality, Sample Quantity, Online Checking – For the defect checking, information that need to maintain records as per order tracking to individual information are possible if the defect check or any other record information is mentioned.

Name of Instrument used for defect checking and which method used for defects checking.

Online defect checking

Defect Quantity

Defect type of & description – individually company are maintaining some types of defects to find out root cause and analysis to minimize defect in products.

Category of defect – to maintain categorized defects.
EXAMPLES, SAMPLES & FORMATS
You would also like to read:
MEASURING INSTRUMENT / GAUGE REJECTION REPORT