Deviation document in production
Deviation documents are established to recording deviation of product, size or process during manufacturing processes.
Deviation documents are prepared, maintained and deployed in the system to recording deviation of product, product' sizes, parameters or process deviation which is records during the production lines or online manufacturing processes, the documentation system is deploy for the recording deviation document at each stage of the manufacturing process. Deviation documentation is established by production supervisor on guidelines of department manager as the part of the production line monitoring system, and concern supervisors are monitoring on activities of the manufacturing processes, verify online product parameters and reporting deviation in case found during the manufacturing process period, those records are collected by production manager from various processes and manufacturing units to identify reasons for the deviation to easier for quick response to modify process parameters or any other required steps to correct processes for reduce deviation or gap of deviation in manufacturing process.
Deviation documents are maintained by production supervisors to recording deviation in product concern, quality concern deviation for minimize gap of deviation in required parameters to provide quality materials to customers. Production manager is responsible for deploy system in production lines, and also to provide guidelines, procedures and collection of information, records data from various departments, locations and production lines to determine actions for gap analysis in product parameters. Deviation documents are prepared by concern supervisor, generally log files are generate during production monitoring, see picture below given as example format of deviation log for education purpose: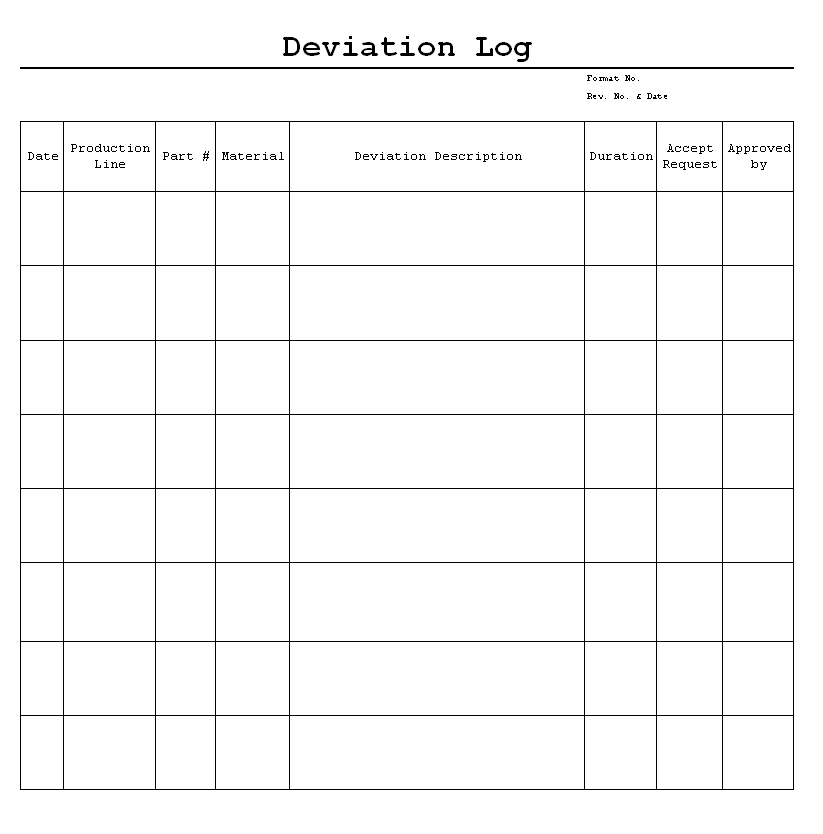 Deviation log format is used to monitoring in production line, and filled by concern supervisor to frequently conducting, verify and measuring product's sizes, parameters and concern requirements to ensure that product is maintained quality or in case any deviation identified that deviation log is filled for further actions. The deviation log details are collected by production manager for analysis all production lines and determine actions plan for reduction of deviation and improvement of product quality.
———————————————————————————–
Download format in word document | Excel Sheet | PDF format
———————————————————————————–