Diesel generator inspection checklist
Diesel generator is alternative source for electrical energy, which used in machine / equipment & office electrical components, with our electricity all the works are not possible in company that depends on electrical energy, hence diesel generator required to run the machinery on requirements.
Diesel generator is the mechanism that need to frequently checking and maintenance for maximize life of generator, diesel generator inspection is required for the various requirements, if the general having the following troubles that harm the environment and human or fetal injury cause due to accidents. Some inspection points are as below:
Check unit numbers, meter working properly
Is there Diesel generate located at safe & secure location?
Check around the body having any crakes, dents, corrosion on it?
Diesel generate is properly cleaned? It should be dust free.
Is there fuel is leakages from tank? Is there any evidence found?
Diesel generator should be covered by Diesel generator enclose to reduce noise level? Is there installed? Or if not noise level in control?
Diesel generator vibrating when it is running condition?
All electrical Appliances are properly guarded, its there any appliances are damage found?
All the rotate parts are protected by guards
 Above points should be accurately comply if the non compliance found during inspection, this is the reason that in diesel generator inspection checklist copy are signed by maintenance peoples with copy which take for the records, maintenance people are read the inspected points and non compliance information are used for the corrective action of diesel generator.
Diesel generators general points and its checklist are available for download to comply requirements of environment health & safety – ISO 14001 / OHSAS 18001 applicable clauses.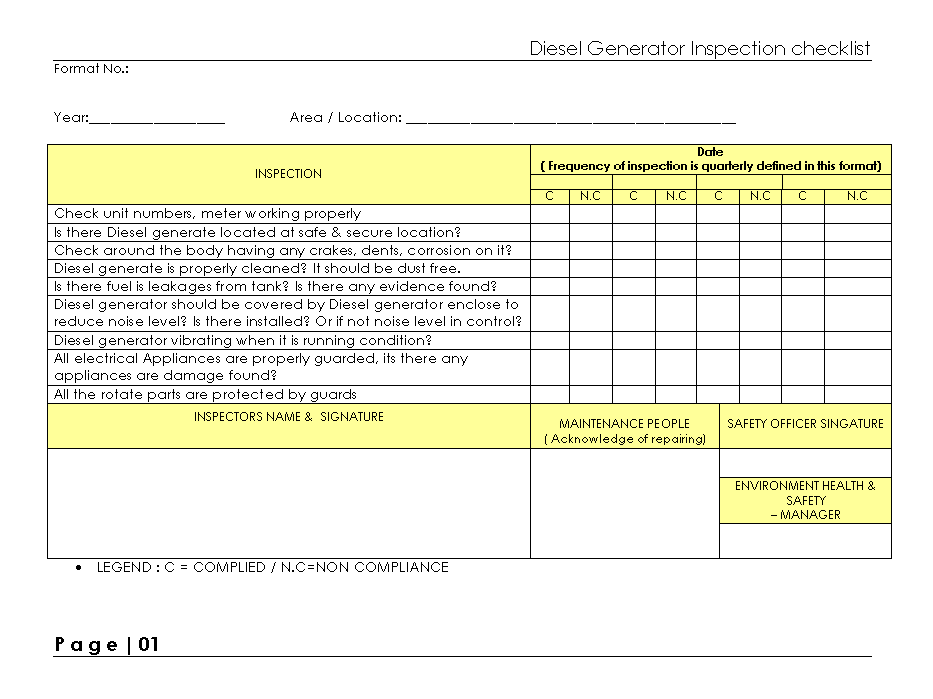 EXAMPLES, SAMPLES & FORMATS
You would also like to read: