Employee complaint form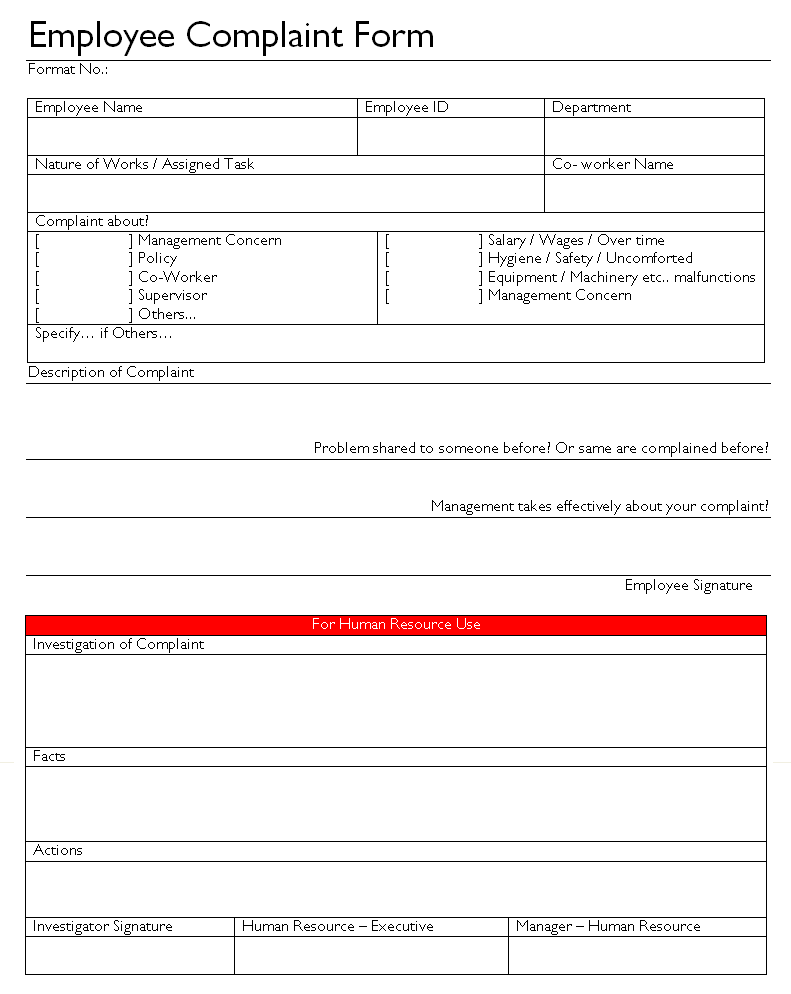 If any employee disappoint or unsatisfied with any concern that employee can fill the format of the employee complaint form, this form owner is human resource department that used by employee for the complaining the situation which is suffering during working time. For the employee complaint form given as below for reference:
Employee Name and Employee Identification number

Name of Department

Nature of Works / Assigned task by supervisor or management

Co- worker Name – This is very important that co-worker names are required to easier for the investigation of the complaint.

Complaint about  – When the employee complaint form are generating that need to clear what about complaint has, management concern complaint, about policy, co-workers, supervisors, salary concern issues, hygiene and safety concern, equipment and machinery or management concern issues.

Full Description of the complaint to easier for identify what is realistic issues.

If the recently same problem happen against this employee that is there shared to someone or against management.

Is there management takes effectively about complaint, this is also very important for the management and employee if the complaint is raised again.

Investigation of the complaint are made by management peoples or human resource peoples that all the sides of the complaints and situation details are collecting and analysis for find outs facts.

Details of the facts are generating in this form for the right judgment for employee, all depends on facts are identified during investigation.

Necessary actions on base of the investigations and facts are identified.
EXAMPLES, SAMPLES & FORMATS
You would also like to read: