Equipment repair documentation – Maintenance engineer
Equipment repair documentation is established to managing and recording information of equipment and its concern repair activities and specific details during operation.
Equipment repair documentation is established and managed in maintenance department for recording all the activities, equipment details and history of equipment to identify equipment failure reasons and conducting the repair task to complete job, the details are conducted during the equipment repair activities where all equipment concern details and operation details are maintained. Equipment repair documentation are conducted during the operation by maintenance engineer for provides information to concern department and maintenance head for proper solution of equipment troubles. The documents are helps to determine actions of equipment repair task during maintenance activity.
Equipment repair documentation are established by maintenance head and at the operations at various places are conducted, the documentation preparation and properly handled by engineers are monitored by maintenance and responsible for maintain procedures accurately by concern peoples. The system is managed on request of any equipment is in trouble that each engineer should follow and conduct the document as per procedure and system established. The document which is conducting during maintenance operation is equipment repair report by engineer, see picture below given example format for education purpose: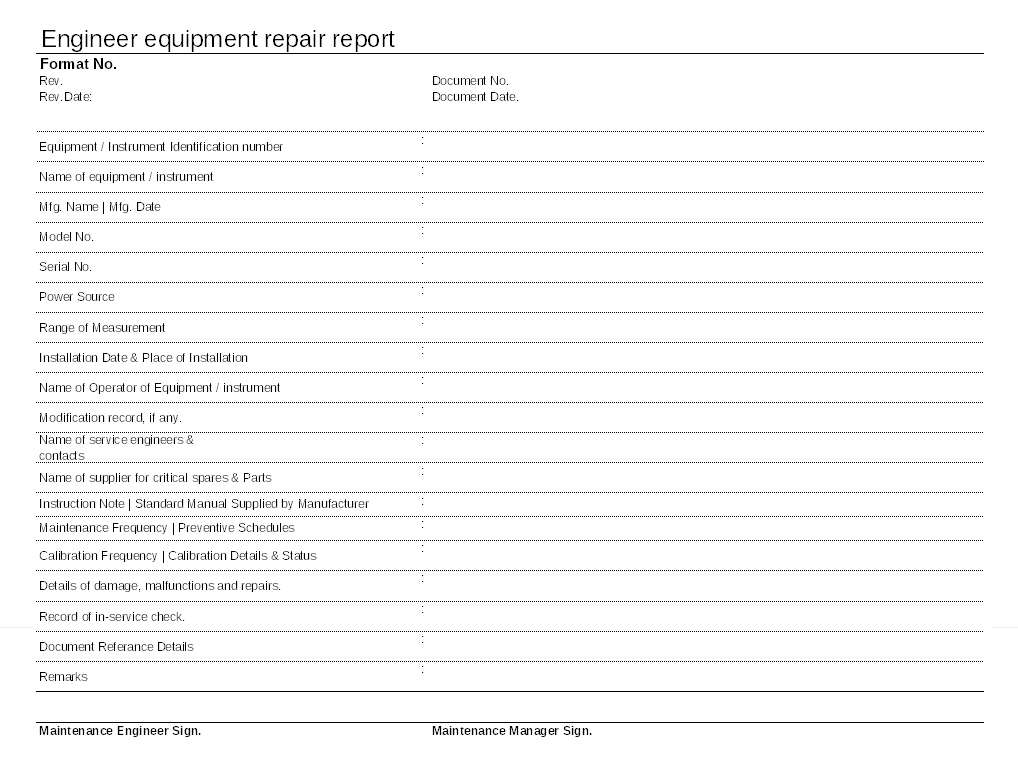 Engineering equipment repair report is maintained in maintenance department for conducing each equipment details, history and modification details to determine actions for maintenance activity. Maintenance department handling and storage documents as per procedures and system defined, the standard system is conduct for documentations and disposal should be as per frequency for retention.
———————————————————————-
Download Format in word document | Excel Sheet | PDF format
———————————————————————-