Fuel subsidy document
Fuel subsidy document is establish to describe information of fuel subsidy provide to employee to regular or event basic on request of employee.
Fuel subsidy document is established and deployed in the management system to managing records and describe information of fuel subsidy provided by company to employee on traveling by vehicle that spend fuel during visit are managed and paid amount for the fuel charges as subsidy amount are paid by company on request of employee for particular works that is for event of regularly as per decided by management to provide fuel subsidy to any employee. Fuel subsidy document is describe information about employee had expenses for fuel for vehicle and claim for it against company to pay back or company allow money as advance in case of regular expense of fuel are occurred for particular visits, or any other company works. The management is distribution subsidy amount on base of company requirements, works that needs outside of company & needs to qualified personnel visit outside places and done the job that company is provide subsidy in fuel to employee of occasional or regular basis.
Fuel subsidy document is established by human resources, human resources department is provided documents, format to employee for feeling information in the format to processing form to receive fuel subsidy from company, on after completion of form of fuel subsidy, employee is sending to accounting department with approvals of concern authority, accounting department is review document and pay amount as fuel subsidy describe information, see picture below given as example format of employee fuel subsidy form for education purpose: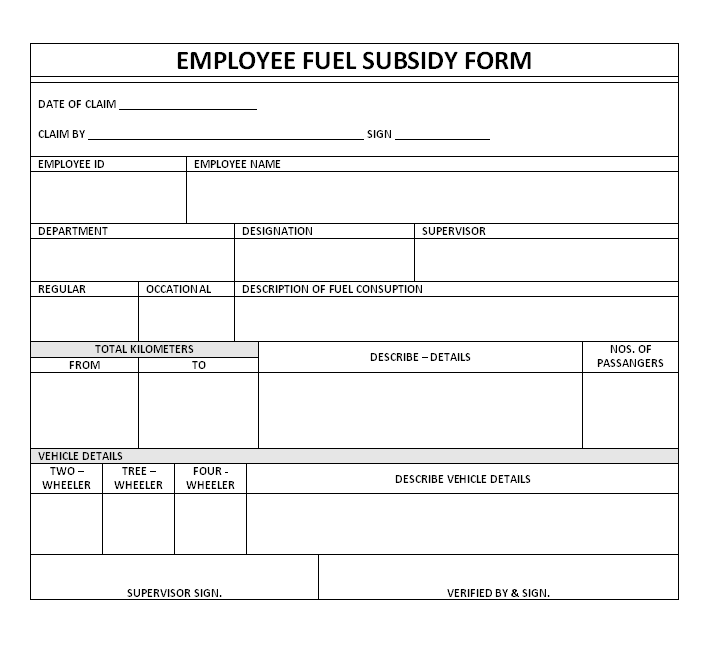 Fuel subsidy form format is used for conducting fuel subsidy details that provided by employee to get fuel subsidy on visits of company concern, the details are mentioned in form by employee with approvals of concern authority, this format is received by human resources department or employee can directly submit to account department for further process, accounting peoples are reviews details and returned amount or provide subsidy amount to claimer. This document is also used as accounting purpose to managing accounting transitions and expenses analysis.
————————————————————————-
Download format in word document | Excel sheet | PDF format
————————————————————————-