Leakage inspection process & documentation
Leakage inspection process is established to inspecting critical locations of piping are verified to ensure safety at each line is installed in workplaces.
Leakage inspection process is prepared, maintained and update information of places where pipelines are installed for various purpose that each pipeline inspection where identified places which considered as critical pipelines like gas lines are manage for inspection to ensure safety at each workplace. Leakage inspection process is conducted by qualified maintenance engineers to inspecting pipelines installed at various places of workplaces, where location to location are whole line are checked and verify for any leakage, leakage can be create potential incident in the workplace that needs to care of places and identify leakages to immediate solution for safety point of view. The pipeline are generally used for gas, hot water and other liquid that considered as hazards, and its leakage cause heavy incident in workplaces, management are understand critical of that cases, so inspection team is conducting inspection process of those places & identify leakages and immediate actions are taken for particular places.
Leakage inspection process is prepared and deployed in the system by maintenance team, maintenance manager is responsible for managing inspection process at each workplace of the organization, and also for responsible for conducting documentation and its verification process, leakage inspection process is deploy in the system by maintenance manager, verification of documentation and ensure that installed piping system is safe and secure and hazard fee for workplaces and peoples working around it,  the system and its documentation are manage accordingly. Leakage inspection team is prepared document and conduct process for identification and proper solution, the records are maintained in register, see picture below given as example format of leakage inspection register for education purpose: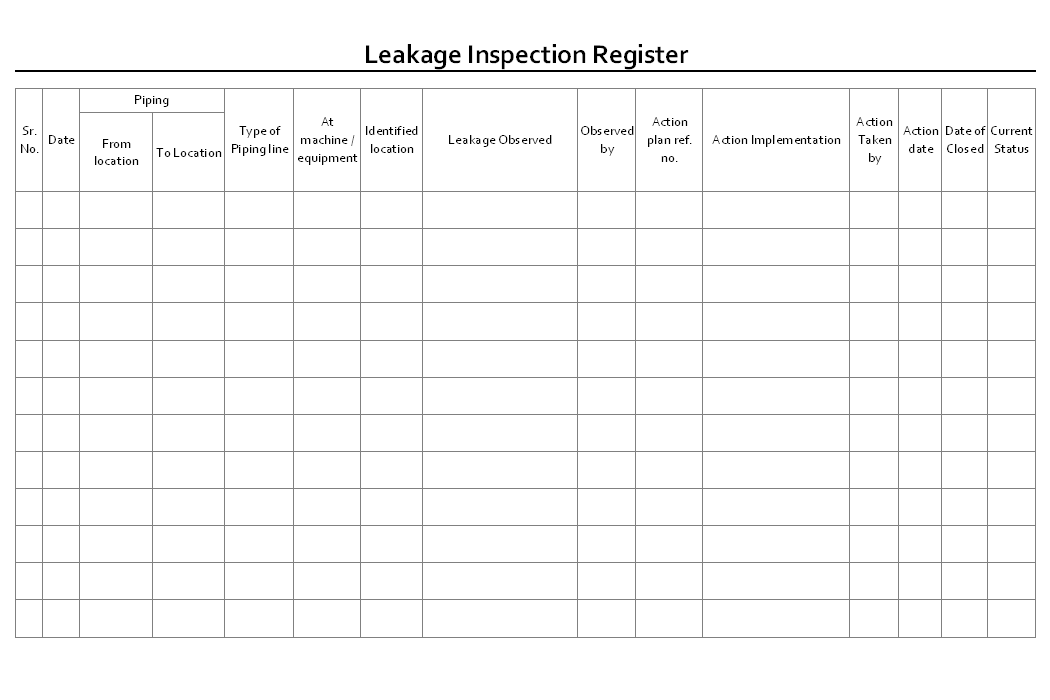 Leakage inspection register is prepared by maintenance engineers for recording leakage inspection process and activities, identified issues, leakages and solutions inline with leakage identified. The records are maintained by qualified inspection team to conduct inspection process as per frequency defined by management. The records are managed and maintain as per inspection process conducted in the workplaces.
———————————————————————————
Download format in word document | Excel Sheet | PDF format
———————————————————————————