Monthly Work Status Report
When the company assigned some work to expecting the complete during the month, this monthly work status report is help to point out, categorized works and status information can provided during and after the month, for the reference format is given as  below:
Works – information of the jobs are provided by company to expecting target dates to complete, all the concern information of works are needs to mention.
Start Date – Work are assigned is started date
Target Date – management expected date that approximately complete on date.
Priority – this assigned work is on which priority, if the works priority is higher that required to establish work early as possible to complete as expected date.
Status  – On end of the monthly what is the status of the project had start on beginning of the month and what is the current situation of the project, is should be completed, pending or under process that need to mentioned for help to prepare next action plan for it.
Responsibility – Against the works assigned to company, who is the responsible for the complete, the task.
Note – remarks, comment, note is the some helpful information that needs to point out to show up some point which is important that information can mention here with.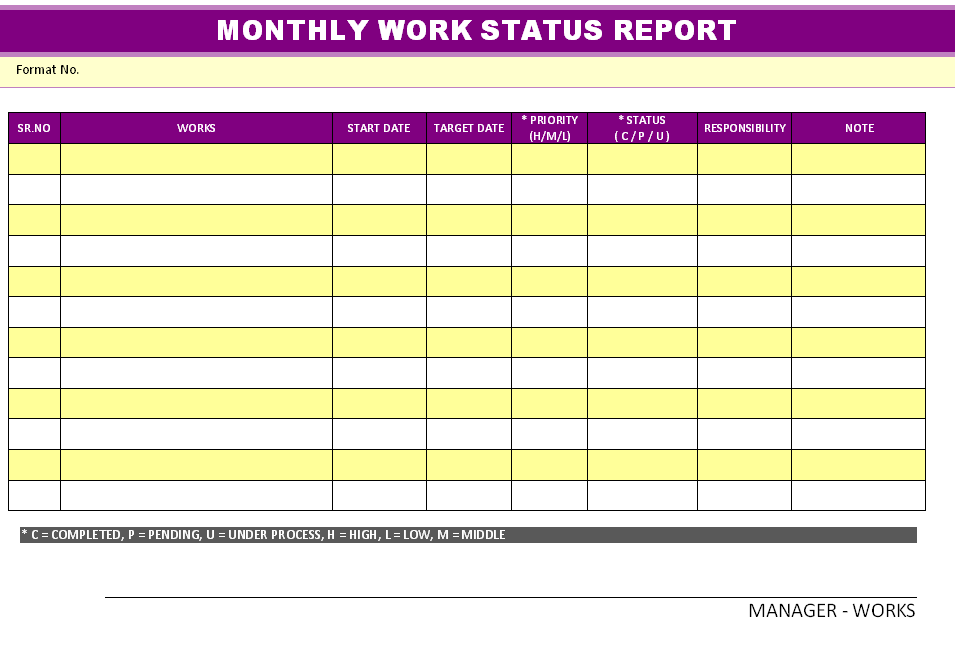 EXAMPLES, SAMPLES & FORMATS
You would also like to read:
WORKSTATION GENERAL SAFETY INSPECTION
WORKSHOP TOOLS MATERIAL SAFETY AUDIT