Part defect review form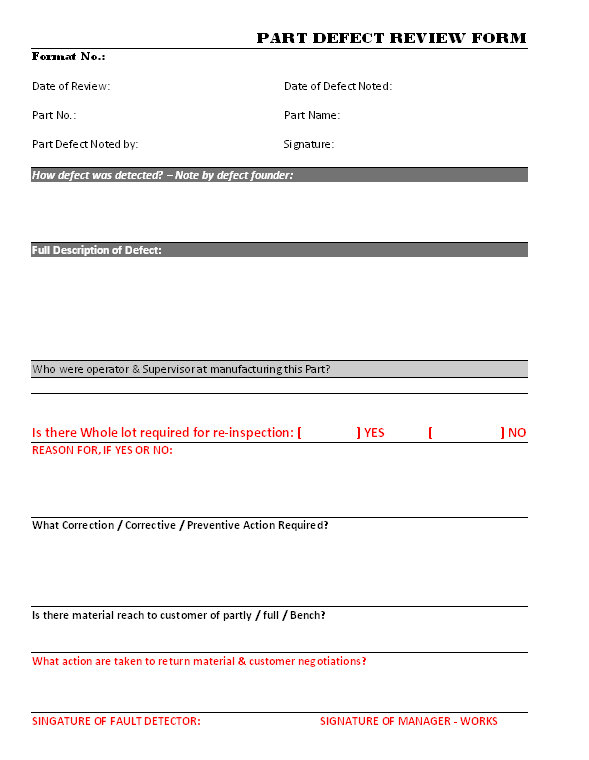 Mostly in automotive industry, where various parts are manufactured & dispatch for assembling, each parts manufactured should be perfect that is defect free to compliance 100% customer satisfaction and avoid reworks at production line. Defect free parts are performing well that benefit for company.
In case of the any defect found that part defect are reviews in regards of the batch numbers / product lot or any other way, part defect review recording in part defect review form where all the concern details are filling up for records. All the details are complete & objective to eliminate defects in production line to run this form for preventive actions.
How defect was detected? Who had defect detect? Some important question and its answers are very important for the inspection and checking of the parts that defect and be identify though method are used by the employee during defect checked, in case of any new method is used by employee as experience that, possible that method can be important to change the procedure of the inspecting parts to find out defects.
Descriptions of the defects are needed to mention to understand the observer how the defects are happen? Or identify the process that defect and occur due to it. During the review who was the operators and supervisor to involve in discuss what was the situation that defect was occur in part.
Due to group discussion, correct reason and solution can found, there are also possibility to whole batch are re-inspect if defects are ignored during the inspection or find the solution of the question why inspection team are disable to find out defect during inspection? Some question that rose is possible to short out during the why? Why? method to reach at real root cause, on base of the real problem possible to corrective and preventive actions in production line as well procedures.
EXAMPLES, SAMPLES & FORMATS