Petty Cash Register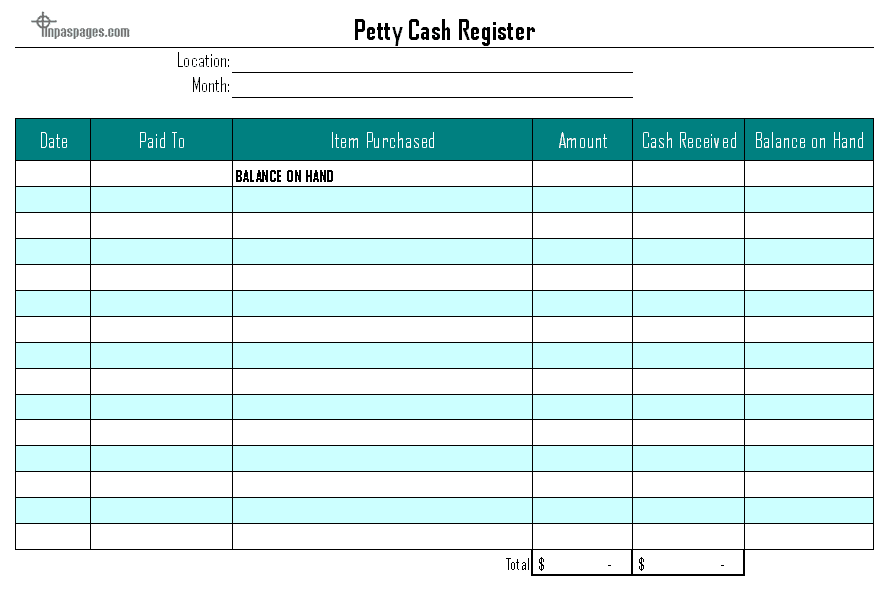 See picture above having some basic fields that indicating the requirements of the petty cash register that helps to manage register for daily transitions & amount which paid for miscellaneous expenses, there are also possible that some expenses has no any written information, bill that amount are paid on trust. But all the entries are maintained as per petty cash voucher. Some basic field that need for maintain petty cash register as below:
Location
Month of the register
Date of payment released
Paid to – Name of the person who paid to against expenses
Items / Purchased – in this field detailed information of the received or issued payment details.
Amount
Cash received
Balance of the petty cash
Petty cash is sub accounting / under head of main cash flow are mentioned in accounting entries as well in profit and loss account & final balance sheet, but still petty cash is independent account system which is cover all small amount transitions which is consider mostly regular small amount expenses that helps to routine works accounting related entries.
In petty cash amount of the opening & amount transfer from the main cash as & when required for the petty cash required transitions & end of the month all the remain balance against bills, expense vouchers, payments vouchers are provided by petty cash along with expenses are recorded in the maintain cash to make balance against amount are remains. There also possibilities in case of the petty cash amount is being well enough to maintain separately under head of the main cash, this is good business policy for the maintain account and its small amount transitions as separately.
For maintain petty cash desk, required to separate all the transition maintain, if the accounting office & manufacturing units locations are different that cases petty cash is much important and useful to manage accounts. For the above case required to appoint person who can handle transitions independently and perform for the possible detailed information to compliance of main cash register.
EXAMPLES, SAMPLES & FORMATS
You would also like to read: