Process Variation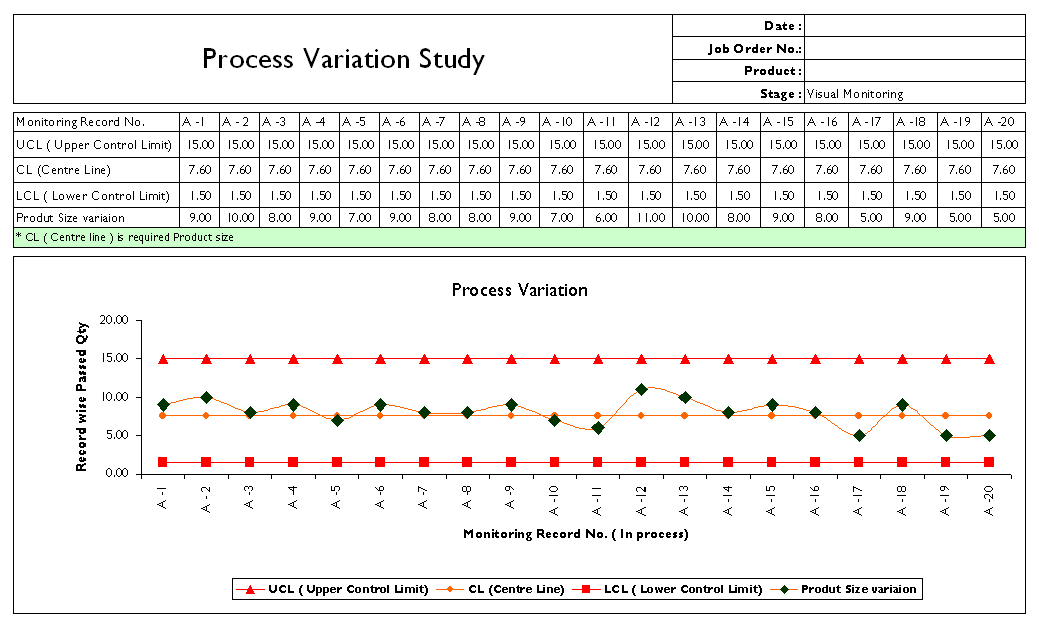 In manufacturing unit there are too many challenges are occurred that need to identify, monitoring and controlling to enable producing quality best product for the customer's application suitable and enhance in customer satisfactions. In the manufacturing process in case single product is running that monitoring are need to establish on the identify product is producing and it sizes should be zero tolerances or acceptable levels, for the monitoring and controlling on the manufacturing process to identify process variation for the product that required process variation study or analysis to controlling on the process deviation and variation for the provide fully controlled product to customers for end applications.
Generally in engineering and automotive sections companies, these kinds of requirements are varying common that almost all the companies are monitoring on process variations. Here as given simple example for sample data to understanding how to measure each product batch and lot to find out product variation in manufacturing processes.
As you can see chart as above are indicates process variation:
UCL (Upper control Limits) as per company experience or technical requirements these limits are defined. – UCL is depends on customer requirements of tolerances given in purchase order with technical specifications same as LCL ( Lower control limit ) is also included along with technical specifications. CL (Centre line) is indicating main sizes or product size requirements that generally use or main size that is identification of the product.
EXAMPLES, SAMPLES & FORMATS
PROCESS VARIATION WORD DOCUMENT DOWNLOAD FREE
PROCESS VARIATION PDF FORMAT DOWNLOAD FREE
PROCESS VARIATION TEMPLATES DOWNLOAD
PROCESS VARIATION IN JPEG, PNG FORMAT DOWNLOAD
You would also like to read: