Testing chemical for manufacturing process use
To establish testing chemical for manufacturing process for maintain chemical parameters as per standards requirements for producing materials.
The procedure is established for testing chemical for manufacturing process to maintain chemical's standards requirements for the manufacturing processes used, standard requirement through ensure chemical can used in manufacturing to not affect product or its quality. the chemical testing is simple test with is conducted by chemist in house or by external but chemical testing should be conducted by certified chemist only, reason that whole processes is affecting in case of chemical are used in the manufacturing processes with wrong parameters, generally corporate external agencies are mostly certified chemists are working and its safe for test outside, but if chemical's used in manufacturing processes are vast and frequently required in processes that need to full time chemist work in the company for the testing the chemicals and monitoring on the processes where chemicals are used in manufacturing processes.
Chemical testing is conducted on each chemical which is used in manufacturing processes or supporting processes in the company, the chemical testing is also required to check out chemical's its own purity to ensure the chemical used in other process are safe for humans and environment, each chemicals are considered as the red categorist mean hazardous category which some government laws and environments rules are need to strictly follows, so company is responsible to maintain details of chemical which is purchasing and used in the company for production or any supporting processes and its testing and documentation are also required for government recognized audits and also for international standards maintain in company. The system should not allow the chemical which is used in manufacturing processes without its complete testing on sample level to all concern testing along with materials. In case the chemical testing are conducted in house that laboratory chemist are prepare report as you can see below, below given picture is sample format for the testing chemicals are used in manufacturing processes: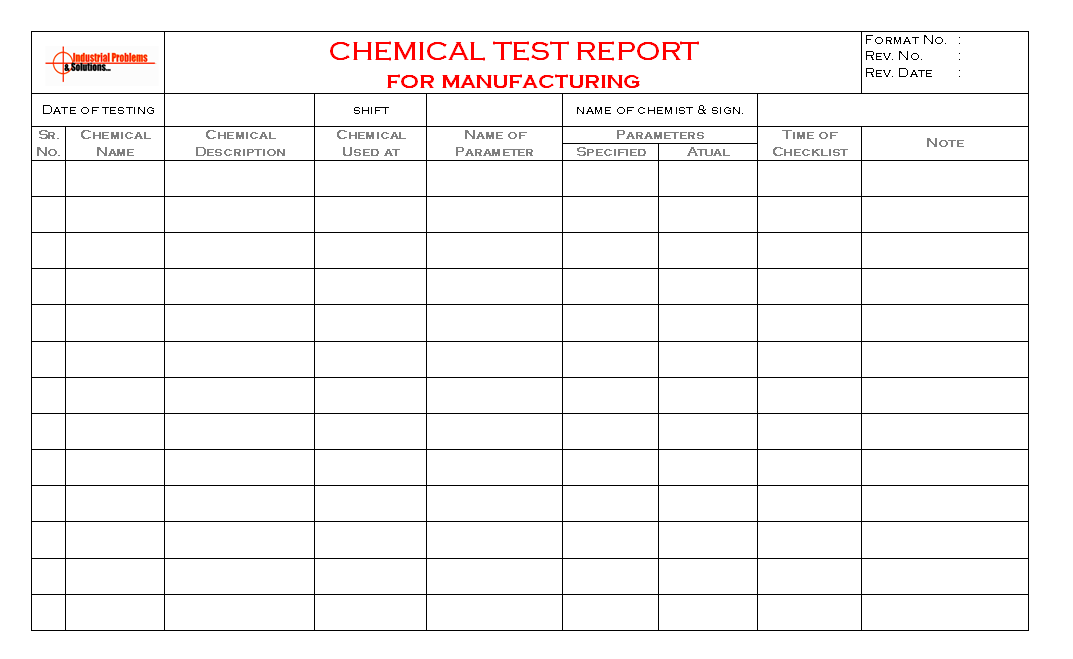 All the tested chemicals and chemical testing is responsibility of laboratory chemist, and on used at the manufacturing processes are monitoring and advise for the proper used is also conducted and under liabilities of chemist. the procedures for the testing chemicals, used in manufacturing processes established and maintain by chemist to ensure the balance of chemical in the manufacturing processes of chemicals, stock, purchasing and incoming chemical testing are conducted by chemist and its prime responsibility to conducted each activities and movement of chemicals.
Testing of chemical are conducted on base of chemical parameters, chemical parameters are captured from the chemical standards, laboratory chemist is considered standards specified parameters for the checking of chemicals, the chemical testing is also consider as chemical reagent and its testing too, when the chemical testing is complete that chemical test report is prepared by chemist for the internal references and also for the summit to government requirement if applicable.
————————————————————————
Download format in word document | Excel Sheet | PDF format
————————————————————————