Agreement sample for safety equipment
In the ISO 14001 and OHSAS 18001 follower companies are need to maintain safety in organization and same need to comply the requirements of the safety equipment for the minimize risk in the processes. in the plant level peoples are working with heavy equipment and machinery and also with hazardous chemical can be damage heath and raised environmental issue, hence safety equipment used can be possible to minimize risk level in organization and also can be possible to minimize accident / incident.
Safety equipment used awareness is very important that need to conduct training for workmen level people to wear safety equipment to maintain safe working environment in organization. Safety equipments are provided by company to each employees and workmen whose performing task can risky, according to works safety equipment are required for safety.
Company are distributing safety equipment among employees and workmen free of charge in case that need to take care of the each given equipment to workmen, hence all the responsibility of damage / theft or lost of equipment bear by workmen / employees, if the equipments are naturally damage that company will replace or repair on own cost. This is the general policy of company is also acceptable for all. But the agreements are required for these transitions as formality. The agreement for safety equipment gives the evident of the safety equipment is given individually.
Here ready made format for the agreement between company and employee/ workmen is given in word document, individually company can change as requirements, downloading link given as below to download: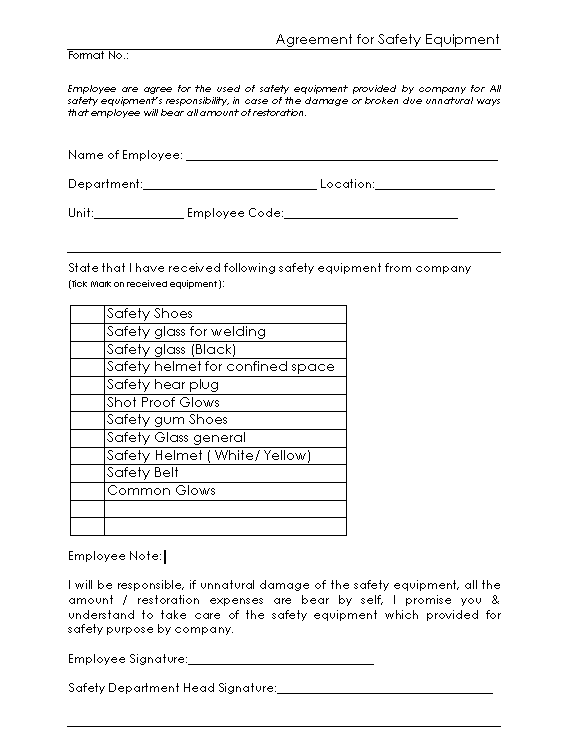 EXAMPLES, SAMPLES & FORMATS