How to carry out aspect impact study & analysis
A purpose of carry out aspect impact study and analysis on environment & works process's activities to identification & controls on hazard.
Establishment of aspect impact study and analysis helps to identify hazardous material, hazardous process to determine necessary control over it, aspect impacts are is primary requirement of functions that needs to monitor & controls on activities, manufacturing process & supporting process that identified as the hazardous for the humans & environment.
How Aspect Impact Study Conduct?
All departments, interested parties, customers and legal parties are provided information, documents and acknowledgement of the condition of the working environment. What are the sources of the study?
Company layout – each company having certified layout & also submitted to government can helps to identified & study.
Manufacturing Processes & Supporting Process
Government law & Rules requirements as per company law
Past incidents / accidents, History & experiences
Some Raw Monitoring reports
Suppliers' material Safety Data sheet
Frequently audits & Regular Inspections
On base of the some inputs or sources of the study materials are possible to identification of the aspects in the routine works & environment. For Identification & define proper objectives and its targets these documents are helps to proper controls. Reviews of the documents raise requirements of the proper format system to put in the information for get structural data to achieve actual result of the conditions of the manufacturing & other processes. To maintain data system & achievement needs to do proper aspect impact study & analysis, here as below given aspect impact study format: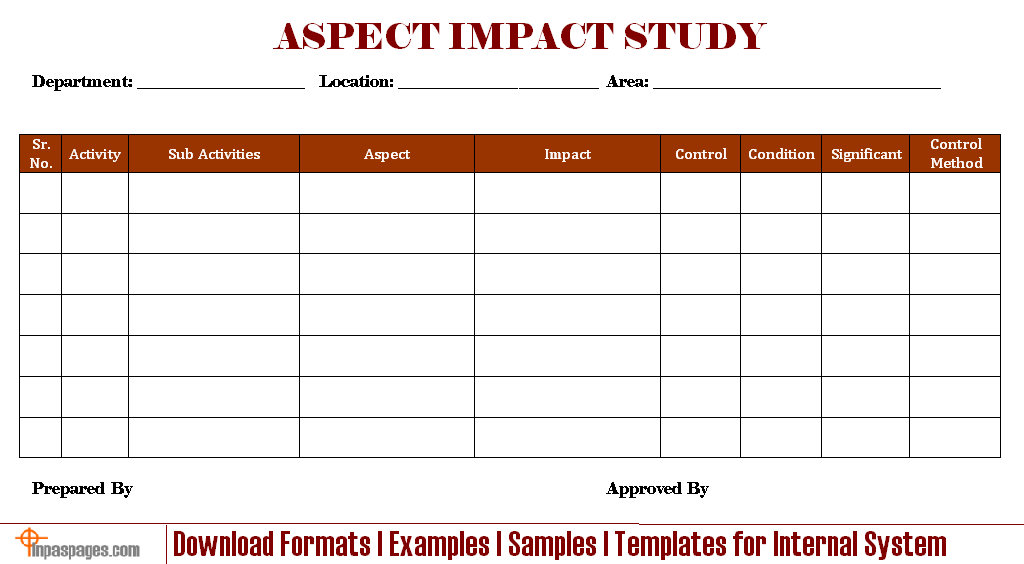 In Aspect analysis considered effects of manufacturing process, activities in companies on water, air, and noise pollution, and land contamination, depletion of natural resources & use of natural energy. There are need to focus on some basic approach that can be emission to air, respective use of energy, waste & disposals, releases to water and land, respective use of raw material and natural resources, some resources can company management control to minimize aspects of environmental by respective use of the resources are available from nature.
What significant aspects are considered for start actions?
Establishing operational controls & procedures
Effective emergency response plan
Deployment of signboard, indicators & banner for people awareness
Define objectives & targets to minimize risk & respective use / Impacts
Improve subjects & training frequencies / Effectiveness
Work instructions
EXAMPLES, SAMPLES & FORMATS
You would also like to read: