Damaged equipment process
Damaged equipment process conducted to manage broken and damaged equipment handling and proceeding for replacement or repairs to regulate routine works.
Damaged equipment process is established, maintained and update as per requirements of equipment management system to managing all damaged, broken or faulty equipment are noted from various department applications, all the recorded equipment are handling and proceeding for replacement, repairing and correction as equipment standards requirements, the damaged equipment process is process that helps to managing faulty equipment are remove from effected places, and return on correcting damaged equipment to repair or replace part as requirements. damaged equipment process is activate when any internal department peoples are acknowledge, inform about equipment installed at the location at its areas that is in department having in trouble or issues raised that equipment management team is conducting its application and visiting and identify issues with equipment, damage or fault to determine actions to repair, remove or replace the parts of equipment, and its records are maintained for the same.
Damaged equipment process is established by concern peoples of equipment management, equipment management is establish equipment concern procedures and deployed in the system, equipment manager is responsible for provide guidance to concern peoples for manage each activity systematically, and records are maintained, update and storage as systems adopted. Damage equipment process handling and controlling are also managed by equipment manager and is responsible for monitoring on activity and deployment of controls measures in processes. Damaged equipment concern documentation are prepared by concern peoples are appointed for conducting tasks, and managing records accordingly, see picture below given as example format of damaged equipment log used to recording damaged equipment activity and update as and when damaged equipment noted in workplaces, see picture below given for education purpose: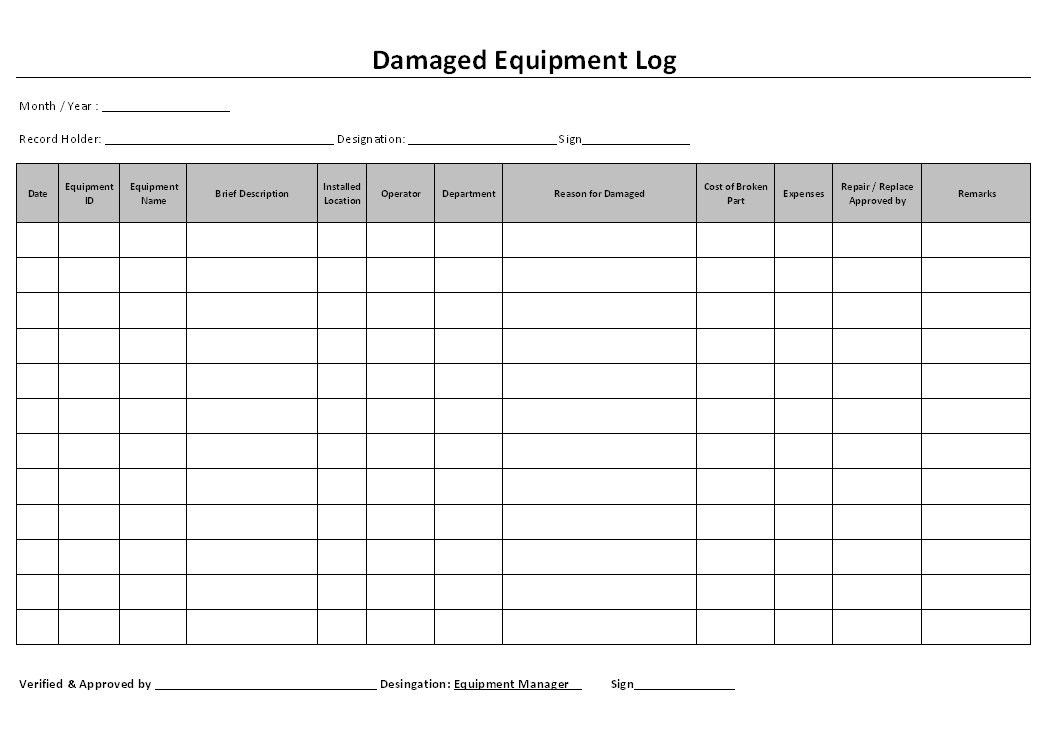 Damaged equipment log format is used for recording damaged equipment during the regular tasks are managed for producing materials or supporting tasks, the damaged equipment information are collecting by equipment management from various department and return the activities for solution are maintained accordingly, the records are maintained for the managing each activity, description of the damaged equipment, location at equipment is installed, operator name to identify and investigate the reasons behind the damaged, and concern cost on it. The records are maintained as per standards system and its storage and disposal of records are maintained accordingly.
—————————————————————————-
Download format in word document | Excel Sheet | PDF format
—————————————————————————-