Documentation for drawing sharing to various departments
Documentation preparation, maintain and update of drawing / sketches sharing / distribution to various department and its concern records are managed for acknowledgement
Drawing or sketches concern documentation, sharing of each drawing / sketches documents to various departments as per request of department individual are managed in single document for record purpose. The records for the drawing sharing to various department are established in generally engineering company, heavy equipment and machinery manufacturing where various departments having requirements of product, parts, tools or any other equipment drawing / sketches requirements are raised for various purpose, generally in engineering company is managing drawing and sketches of parts for assembling any model as per product requirements, which is needs to various departments for its individual purpose, those records are maintained as per standard system and its distribution / sharing records / documents are managed in the register format to acknowledgement of shared documents.
Documentation for drawing concern records are managed, update and records are handled as per management instructions, and management is assigned responsibility to employee that conducting each drawing / sketches and its concern records, the responsible person for handling records is also maintained drawing sharing, issues drawing /sketches, returned, and update records on new drawing / sketches are involved in record. Documentation is maintained for sharing of drawing and sketches in drawing sharing register, see picture below given as example format for education purpose: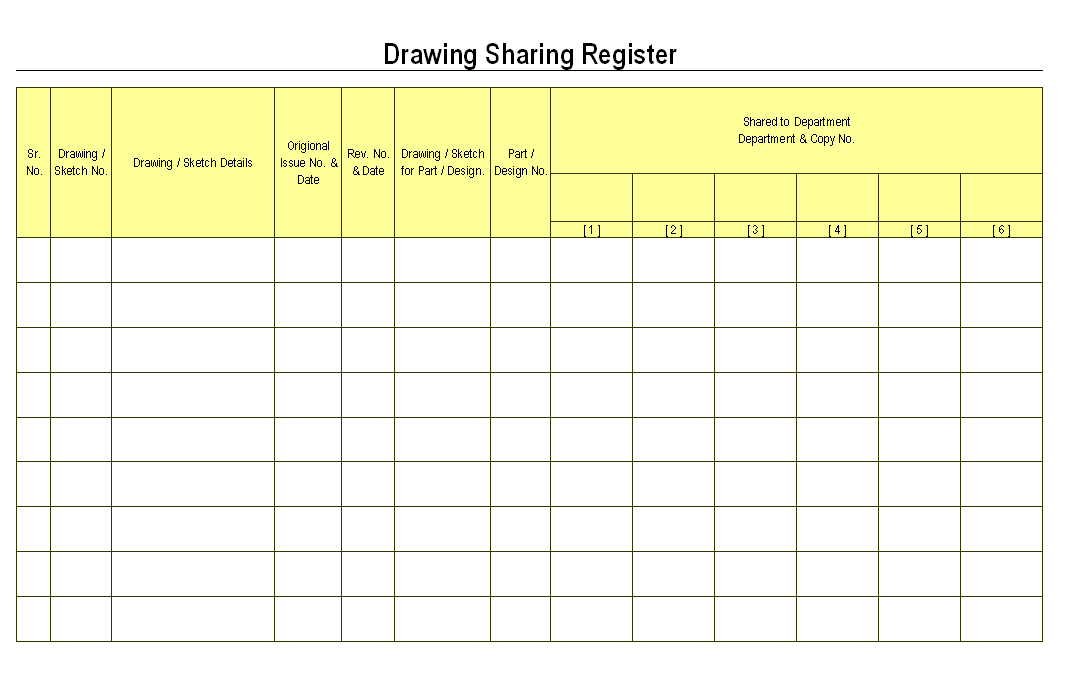 Drawing sharing register is maintained records of each drawing / sketches shared to various department on request of department head for internal purpose, the records are maintained with detailed information in the register to easier for identify reasons of requirements. In the register drawing records / sharing information / original issues records and revision records of drawing / sketches are maintained for acknowledgement.
—————————————————————————–
Download format in word document | Excel Sheet | PDF format
—————————————————————————–
Related: