Equipment process inspection form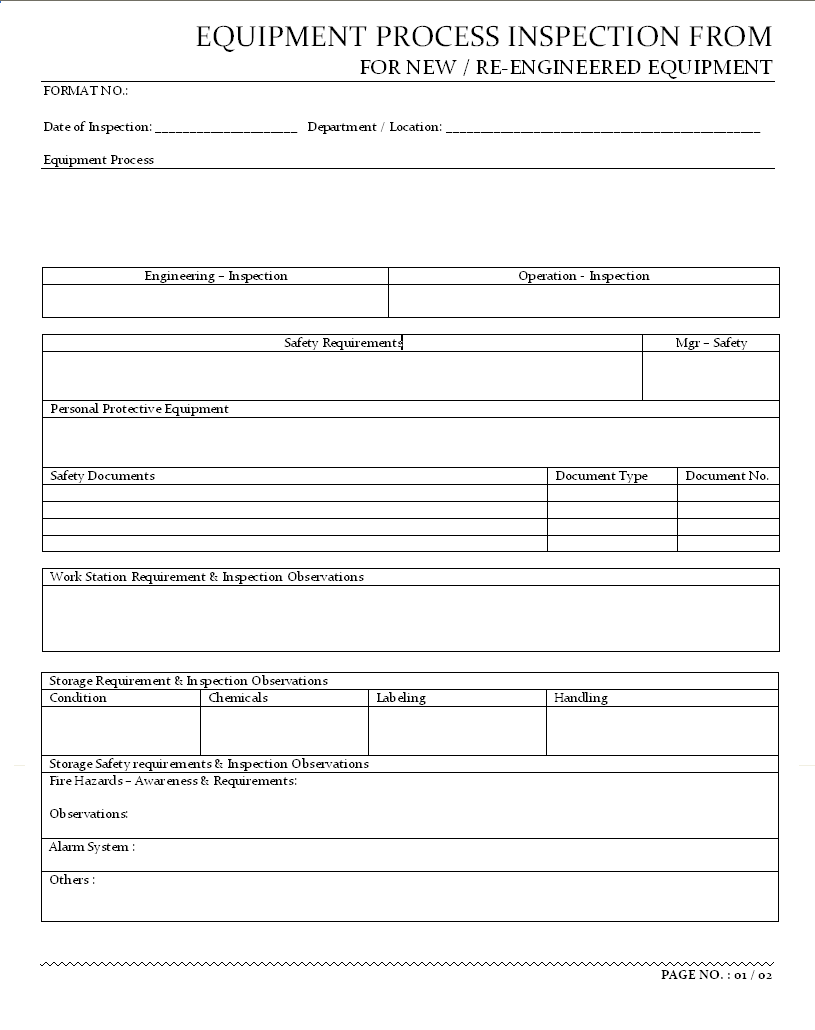 Equipment process inspection form use for the new or re-engineered equipment to ensure all the requirements of equipment, processes and equipment safety concern to manufacturing, establishment and other concern are properly maintained. Equipment process inspection is very important for the communicating to each step of the process by verification audit and observation to eliminate possibility of the mistake and also help to maintain safety in equipment engineering. Here as below given example for equipment process inspection form for new or re-engineered equipment:
Date of inspection – establish date of the inspection has began

Department / Location name of the engineering processing are happening

Equipment Process – Detail information of the equipment processes

Engineering and operations – Inspection, Observation note with detail information of both the ends.

Safety requirement during the process, for the safety concern, manager safety is responsible for considering and maintain safety during the engineering processes.

Personal protective equipment – During the new or re-engineering processes what the personal protective equipment required and during the inspection, inspector will be inspecting that peoples are followed or not.

For the equipment engineering – safety documents, document types and document numbers should be maintain to possible recoding the information concerning safety and health of the supporting team

Work station requirements and inspection observations

Storage requirements & inspection observations – for the material which are used for the equipment engineering that should be need to storage properly, during the inspection and observation, condition of the storage, supporting in process chemical storage and safety, labeling of the each material stored and proper handling in storage department should be monitoring and proper controlling should be maintained and same will be observation required.

Material used in the equipment process that is bill of material or supporting materials that used for the engineering like .. Tools, spares and parts.

Engineering processing are requirements of the heavy machinery and equipment which is hazardous if the proper care are not maintained in work station, hence each hazardous places, machinery, equipment at the end signboards, safety precautions and other concern labels should be deploy.

Training, Awareness is very important for the any operation, process and work that proper training needs and complied or not, in this form need to fill.

Electrical management for safety and observations records for the control rooms, control panels, wiring for each equipment are connected and supporting wirings.

machinery management – machinery cleaning and safety, safety guards for each machinery, connections and fitting observations, inspection records required

Waste management is also big part for the inspection processes.

In engineering process inspection, emergency during the operations should prepared and peoples must aware for that points, in this form all the possible emergency and preparedness information should be mention.
EXAMPLES, SAMPLES & FORMATS
You would also like to read:
EQUIPMENT IDENTIFICATION FOR CALIBRATION
EQUIPMENT TEST REPORT
EQUIPMENT VISUAL INSPECTION RECORD
DEFECTIVE EQUIPMENT RETURN FORM
EQUIPMENT MAINTENANCE LOG
EQUIPMENT INSPECTION REPORT
EQUIPMENT COSTING REPORT
EMERGENCY EQUIPMENT RECORD
EQUIPMENT USE REQUEST FORM
LIFTING EQUIPMENT SURVEY SHEET