A Hazardous Chemical Inspection Checklist help to ensure all the chemicals are in use with processes are properly storage, maintain, handling and use as per defined procedures.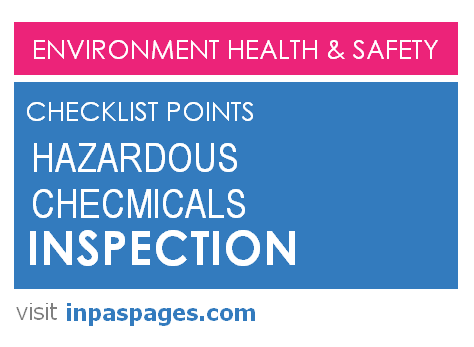 Overview
It is obvious in the manufacturing or engineering units require to safe environment which using heavy equipment and hazardous chemicals in the processes. The accurate reporting of each hazardous material as well as potential inspection procedures should be maintained within the plant. Normally, during the hazardous chemical inspection include the inspection such as verify the labeling, handling procedures, storage, chemical use, risk levels etc.
Identify hazardous chemicals & inspection process
It is very important to identify and list each hazardous chemical use in the process. Even, inspection team must verify and ensure that the all material safety data sheets are currently available with the appropriate locations. All the risk assessment for the processes & update chemical register is maintains with the department. And user is following this chemical handling, procedures and work instructions properly is very important to verify during the inspection process.
In-coming chemical (purchasing) inspection
You have to check all the in-coming materials (chemicals) before the storage process. There require to check the quality, related data sheet, require safety instruction etc. Normally, this process is conduct by safety officer. During the inspection process of the chemical, safety officer will be verifying the MSDS sheet, in case of new chemical purchase, talk with supplier for data sheet.
Inspection for handling and storage process
At the handling and storage process, officer should verify and ensure that ensure that all chemicals are transporting in proper tight with closed containers, and properly label are on each drum.  Even, also require to verify that the how chemicals putting down from the truck, how to moving and what is practice to moving the chemicals.
What to include in checklist?
Chemical inventory maintained up to date, it's always available for review or inspecting purpose.
Material safety data sheet is must for each and every chemical, if it is hazardous it necessary to supplier provide M.S.D.S and same will be collect and aware people for M.S.D.S.
Check whether plant hazard communication program is prepare and available for concern peoples?.
Check whether work instructions, standard operating procedures, precaution notes, sign boards are written as well deploy at plant area? Peoples are aware for those all? They follow as all?
Each employees and workmen training given properly for handling of hazardous chemicals?
Are there labels on each chemical are available? Labels are necessary for storage / transfer after use on drum / bottles etc.
Chemical storage rooms, cabinets, area are properly ventilate?. Is there direct sun light being comes on chemicals?
Whether at storage no spillage,  no dust, dart is acceptable?. Is there found, immediate action on it
Each chemical boxes, bottles, drums etc. Are inspect, at time of inward and before use?
Whether any unsafe activities, unsafe condition, unsafe behavior on working environment found? note it If observe.