Lift safety plan – Employee Safety Management
Lift safety plan procedure is established to identify hazardous activity & materials in workplace to reduction of general failure & incidents dues to disorder risk factors.
Lift safety plan process / procedure is established for managing employee safety in workplaces by identification of hazardous activities, hazardous materials are used in manufacturing processes and deployment of safety plan which concerning lifting materials for reduction of failure of general duties of employee and minimize incidents due to disordered risk factors. Lift safety plan process or procedure is conducted for employee safety by managing all the activity where lifting and moving with heavy equipment, heavy materials or machinery needs to moved, lifting and moving activity is general in manufacturing, engineering or heavy equipment / machinery manufacturing and dealing company, so its important that lifting activity should be properly monitored, analyzed and deployment of measurement to determine controls that can be in form of engineering controls, administration controls or substitution processes for eliminate or minimize possibility of risk level during lifting operation. As per standards – Occupational safety and health administration (OSHA) employee safety management system and its requirements should be complied, employee general requirements of safety and duty cause due to failure of disordered risk factors, lifting equipment, heavy materials or objects that care points, engineering controls and proper training and deployment of instruction / procedure for elimination of risk level.
Lifting safety plan and documentation are prepared by safety officer, and safety officer is responsible for deployment of lift safety plan in workplaces, hence management representative is also equally responsible for deployment of lifting safety plan in system, monitoring, improvement of safety plan and follow up the system requirement to manage and enhancement of lifting safety in system. In general terms of the issues, risk factors that hurt jobs or cause injury or incident with employee are existing hazards in workplace that with engaged with lifting equipment or objects, that needs to identify and controls that causing serious physical harms or fetal accident to employee. The purpose of the lifting safety plan is to managing employee safety by identification of job hazards and its proper analysis, reviews of each hazards that involved in activity are conducted and measuring level of risk factors, and controls over activities to faith effort to reduction of ergonomic hazards.
Lifting safety plan are prepared to considering the major factors & activity monitoring of lifting objects during various operations in workplaces, possible substitute activities or processes can deployment to complete any task or any engineering requirements and its planning to managed all, implementation of safety plan for safe lifting, needs to conduct proper analysis or assessment of hazards in workplaces and risk factors that managed by risk levels to identify priority for controlling those activity for particular process, activity or objects. The documentation of lift safety plan is prepared and deployed in the workplaces on base of the proper reviews of the documents, requirements of workplace to minimize risk levels in lifting activity, and managing some laws and regulations that are evaluated by government for particular processes for lifting activity. See picture below given example format of lift safety plan form through lifting safety plan's primary information are drafting and other requirements are involved to establishment of lifting safety and its requirements that possible to proceeding in workplace, here as below given format for education purpose: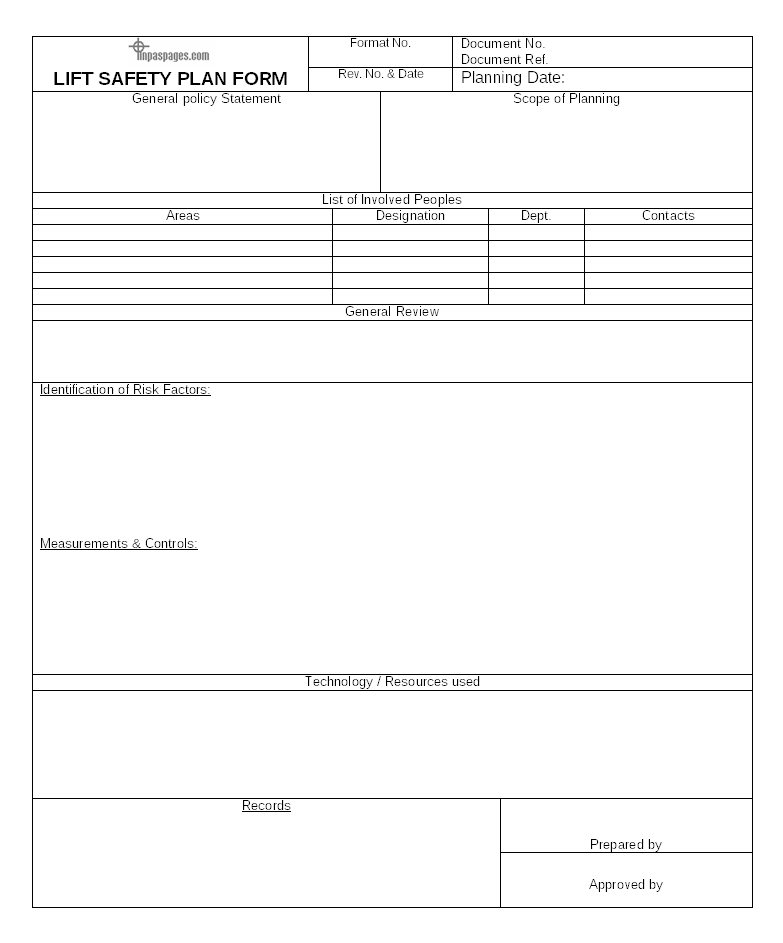 Lift safety plan form is draft format that help to managing all the activities, records & structure information, analysis and monitoring records that helps to preparation of lifting safety plan for workplace. For the managing lifting safety plan some primary requirements are managed and organized to preparation of drafting of safety plan, that format is consider basics and its general requirements to understand how to lift safety plan and what resources, documentation or any other supports are required. The documentation is used in lift safety plan and records are handled by safety officer. The documents are managed, storage and disposal process conducted as per standard requirements and retention period.
————————————————————————-
Download format in word document | Excel Sheet | PDF format
————————————————————————-