Manufacturing product and process audit documentation
Manufacturing audit documentation is established to ensure that product and manufacturing processes are conducted as per standards and technical requirements.
Manufacturing audit documentation is established by management to ensure that each producing materials and by various processes are used to manufacturing products are managed, organized and verified as per product standards and technical requirements, processes are conducted as per standards and its requirements. Manufacturing audit documentation are prepared by management representative to conduct each process that used in manufacturing to producing materials, the records are conducted as per audit processes and results are raised during manufacturing audit processes. Audit team is conducting manufacturing audit as per schedules defined for product and process verification and inspecting as per standard requirements and identify internal management system, and non-conformity for improvement of manufacturing system.
Manufacturing audit documentation & deployment of processes of audit is conducted by management representative; management representative is also responsible for conducting processes of audit to managing stages of producing materials and manufacturing processes stages. Management representative is also conducting processes for selection of qualified auditors to conduct manufacturing processes and prepared audit report of manufacturing to determine action plan for manufacturing processes and product improvement. See picture below given as example format of manufacturing audit checklist, the document is used for manufacturing audit in internal management system, see below given for education purpose: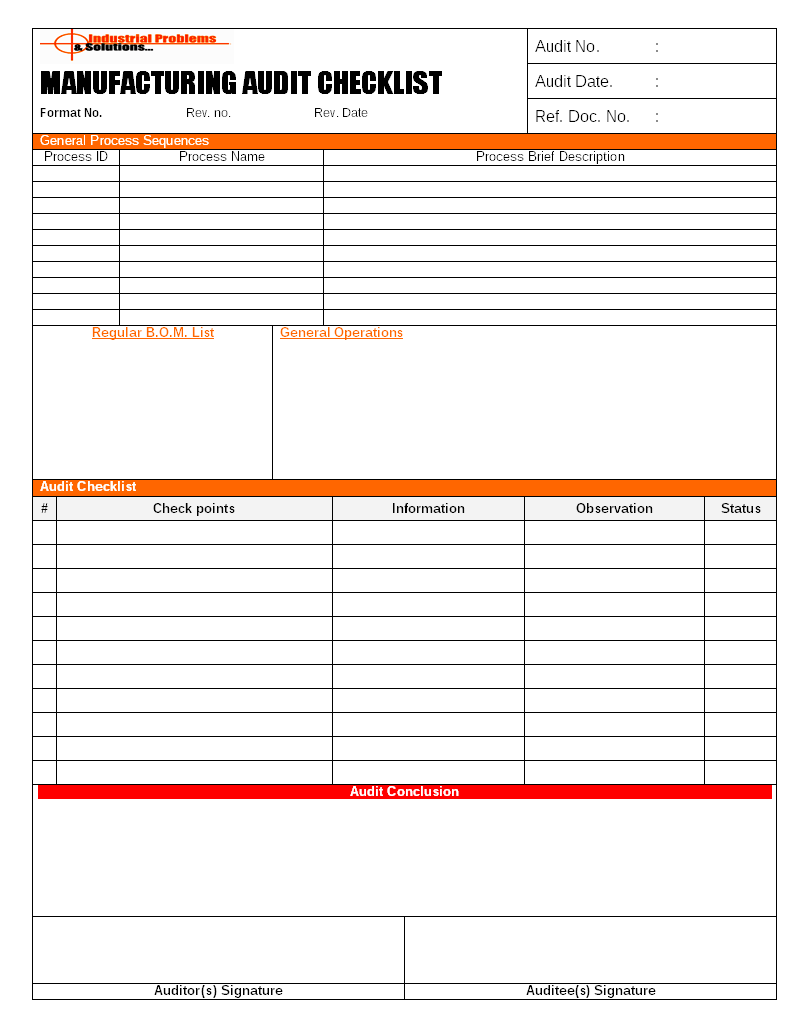 Manufacturing audit checklist is prepared by management representative with contribute production and quality department for preparation and improvement of audit. The records are conducted as per manufacturing audit checklist where all the basic requirements are conducted and mentioned which are auditors are refer and conduct audit for smooth process. See below some points are used for manufacturing audit checklist are as below:
How to identify process control parameter and how its important process control parameters to managing / organized and success of producing material with standard quality.
All the measuring equipment, devices and measuring instruments are properly calibrated which are used for manufacturing, quality and supporting processes, its there any evidences of the calibration and its records are properly maintained? How gauges / fixtures etc, are managed for manufacturing processes.
What is the specification limits mentioned for manufacturing process parameters? Are each parameter maintained specification limits?
Is there necessary corrective actions, preventive actions and sources of cause are identified? How the action plan is implemented? Whether records are maintained?
How to improvement is monitored? After action plan implementation of corrective / preventive action is reduction in non-conformance are evident?
The points are given as above are general that used in manufacturing process and product audit which are manage in manufacturing audit checklist, the records of the manufacturing audit is provided to manufacturing head and management representative, manufacturing head is conducting each non-conformance and improvement points which are marked by audits are conducted to determine action plan for improvement.
—————————————————————————–
Download format in word document | Excel Sheet | PDF format
—————————————————————————–