Manufacturing report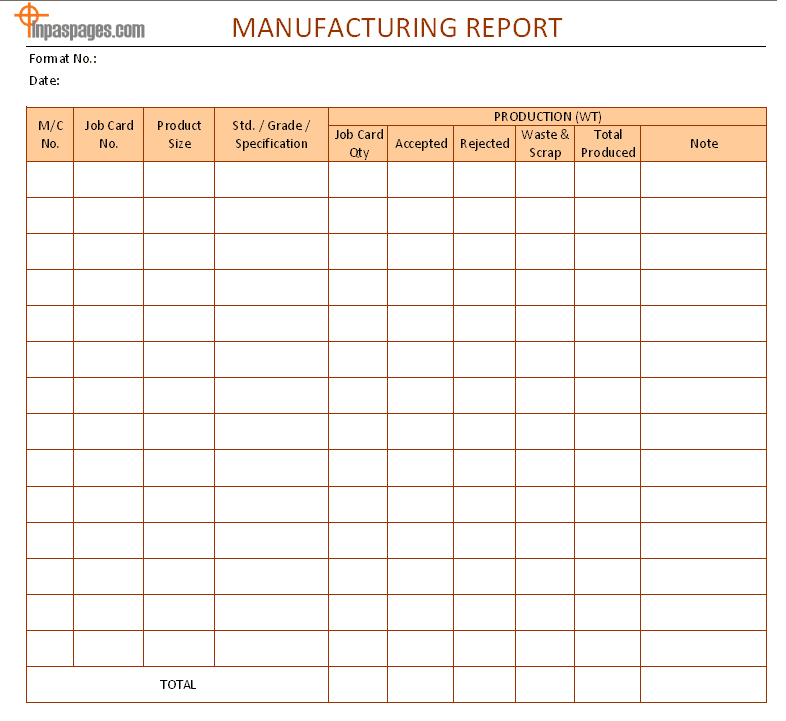 Manufacturing report is establish, maintain and update for the collection, capture information of the daily production quantity, rejection percentage & waste and scrap records, through manufacturing report all the required information of the daily activities are conducted are record in the format the enable analysis of collected data to possible reduction in rejection percentage, minimize percentage level of the waste & scrap during the manufacturing process activities.
To collect the information & analysis on the collected data is very important for the minimize cost on product, for the data collection purpose manufacturing report are establish and maintain, here as below given example for the reference:
Date of the manufacturing report information is collecting form the manufacturing unit.

On which machines are run during the working hours, each machine numbers show in the manufacturing report respective to product.

Which Job card number is insert, selected for the manufacturing process, need to mention in it.

As per machine number, which product, product size is taken for the output.

Each material having its own properties, for the product, standard of the product, grade, and specification of the product is necessary to mention in the manufacturing report.

As per production, what is the status end of the day, all the job quantity inserted for the production, accepted quantity, rejected quantity, waste and scrap quantity and total produced quantity information required for collection & analysis purpose.

Any specific information for machine / job or product which is important to follows or takes a note for the particular line.
As per above points, manufacturing report can create and maintain for the daily activities recording purpose, in the manufacturing report can modify as per requirements of the analysis requirements, company's individual requirements for the analysis and cost controls.
EXAMPLES, SAMPLES & FORMATS