MSDS Audit Form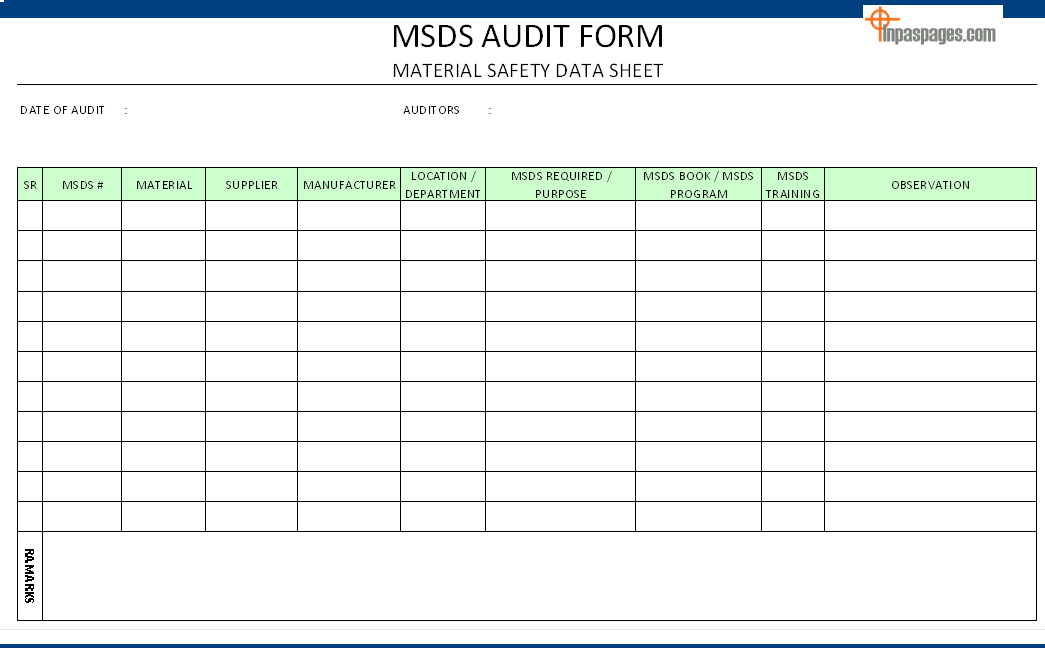 What is MSDS?
MSDS stand for Material safety data sheet   – MSDS is provide by manufacturers via supplier to end users, material safety data sheet is informative sheet for the maintain safety during:
Handling

Use

Move / Transfer

Storage
This document is covering all safety requirements concern with product & processing with supplied material by manufacturer. End user need to read the full & deeply MSDS document which is full concern details of product had given, there also available details of product's base material compositions & material properties to easier for end use to maintain & prepared safety before it use.
MSDS – provides details of:
How to handle material during the process, what safety required to minimize risks

During the use of material use, most companies are use chemical which is in hazardous categories that manufacture must provide MSDS along with supply ( if you supplier not provided MSDS along with supplied material & it is hazardous than you have ask for MSDS by force) for use during routine processing – Example: if the company use CHEMICAL in process that, operator know the MSDS for the processing chemical – how to use it, what is there requirements for safety like " Fume mask – which is special mask for chemical processing, Hand glows, GUM shoes etc.. as per provided information in MSDS.

During the movement / Transfer the hazardous material as per Material' MSDS need to strongly follow the instruction because manufacturer know the reasons behind possible hazards with material during movement and transfer.

Storage is also very important for the hazardous material; MSDS also provided information about storage & maintain material on level of smooth operations.
How to Do MSDS Audit?
For the material safety data sheet audit is required to maintain safety in manufacturing / processing plant, if the peoples are well aware about MSDS and its valuable instruction that possible hazard i.e. risk level can possible to reduce.
Consider MSDS main requirements are:
Manufacturers & MSDS

Location of the processing

MSDS Requirements & purpose of use

MSDS books & program
There so many points were need for MSDS audit; here some forms given as below:
For the MSDS audit check all the departmental used hazardous material ( including chemicals) list

Check all the chemicals having with MSDS provided by supplier?

Check with MSDS, Controlled status and records of evidences. – Is there all safety instructions are in line with MSDS? Whether MSDS available for all chemicals / Reagents used for process and Testing?

Check there existing chemicals / material are stored systematically as directed in MSDS & identified with optimum qty and identification? It's very important.

MSDS & instruction for storage and handling. – Hazardous chemicals are stored separately with handling instruction or not?

For the reagent chemicals should maintain all the MSDS respect to nos. of reagents.

MSDS training, awareness program records & effectiveness of the program are audited properly, through training peoples are aware about MSDS, so its very important that during the process mistake proof environment possible to create.
EXAMPLES, SAMPLES & FORMATS
You would also like to read: