OHS Induction checklist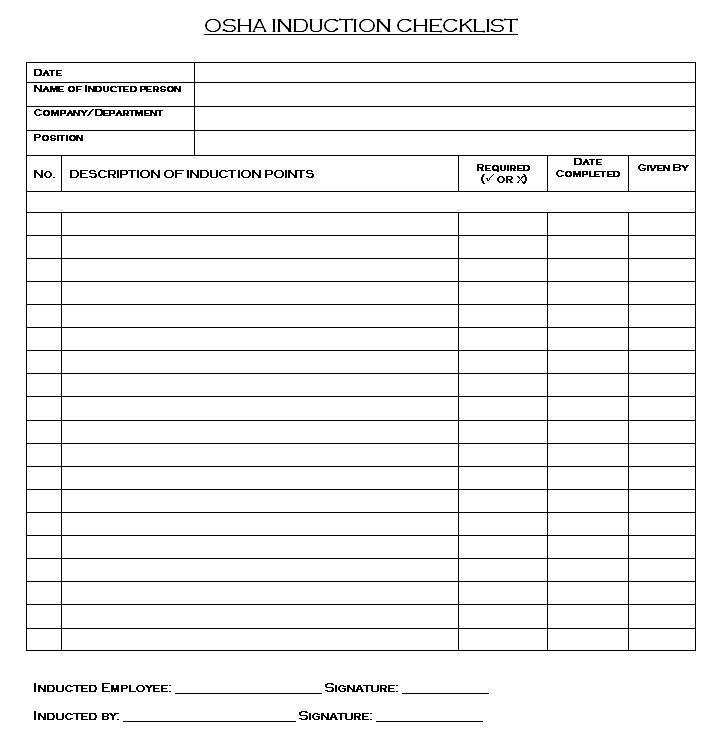 To identify condition of department, preparedness of emergency, health and safety, training program and awareness of ohs role in company's daily activities in working environment.
All personnel recruited / transferred with the department to department or organization are to be trained in the use and objectives of the OHS / OSHA that is health & safety and internal department safety rules by their supervisors within one week of joining of department / company. All the record of the training / induction training must have recorded on the OHS induction checklist.
Who identify OHS training?
Management representative of occupational health & safety system, is responsible for identification of training needs, to facilitate imparting the same and determine effectiveness of training which results in transfer of knowledge, ease of work, safe working conditions and to achieve initial levels of quality.
Human resources department sending the information to management about newly recruited personnel and information pertaining of OSH management system.
Executive of human resources department prepared and circulates the concerned person, and induction program containing the details induction training.
General points provide in induction training area:
OSHA basic
Regular job tasks and follow up procedures of their job.
Work instructions / supervisors instructions for each job task.
Identification of potential risk / hazards in workplaces and reporting.
Use of safety equipment, glows, shoes, glass etc.
Handling and use of chemicals, hazardous materials.
Emergency preparedness
First aid
OHS induction checklist is prepared by management representative of OHS for the departmental activities identification, departmental requirements concern OHS. This format used for OHS executive to verify department wise information as per requirements of OHS.
EXAMPLES, SAMPLES & FORMATS: Download