Pallet safety plan
Pallet safety plan process is established to systematical installation of pallet to ensure that product are being shipped are safe and at it's place.
Pallet safety plan procedures or guidelines is established for installation of pallet on shipping for safe the product during transportation, installation of pallets should be systematical and accurate to product being at place during any transportation activities. Pallet safety plan is also covered workplace and workmen safety during the operations with pallet handling, moving, storage and installation. For the pallet safety planning required to conducting safety process from checking all the incoming pallets form suppliers, in case the poor quality or designed pallets, broken or inadequate pallets are installed at the location that possible to cause any serious damage as well as personal injuries, there are also possible to product damaged due to inadequate pallets.
For the pallet safety training is primary requirements to identification of inadequate pallets which should be proper identified, storage at separate location and remove from system for returned to supplier of pallet, workmen should be proper trained to easily identify inadequate or broken pallets which is storage or on incoming pallets in company. During the training demonstration of the pallets receiving, inspection, shipping and stock at the storage room, all the required training should be properly given to employee for the conducting task as desire to comply the each task to consider product safety and personal safety. There are also important parts of the pallet to conduct periodically audit or when the incoming pallets are stored that needs to proper audit on each pallet is received during the period.
All incoming pallets from suppliers are inspection are conducted by packaging department and those are responsible for any inadequate / broken pallets in case the found in the system, packaging department should conduct inspection on time of incoming pallets, handling, moving and storage at particular places as defined by management, hence all the storage pallets inspections, handling, movements its concern responsibilities of storage in-change for proper storage and related activities are taken. On identification of broken or inadequate pallets by packaging department during the inspection that all the concern processes, and returned to supplier activities and responsibility of purchasing department, in case the sizes, shape or standards requirements should be fulfilled by supplier and its cross verification should be conduct by purchase department of company to quality pallet can involved in system. When the packaging department is conducting inspection that each pallet is verify, in case of wooden that type of wooden materials, sizes, acceptable load tests, sizes and shape of each installed or packaged with pallets etc.. Information is verified & cross examination with purchase order and requirements of pallets. When the inspection processes is conducted that packaging department given the documents or inspection report to purchasing department and same should forwarded to supplier by purchase department if the further actions are needs on it, see picture below is pallet receipt given for reference to educational purpose: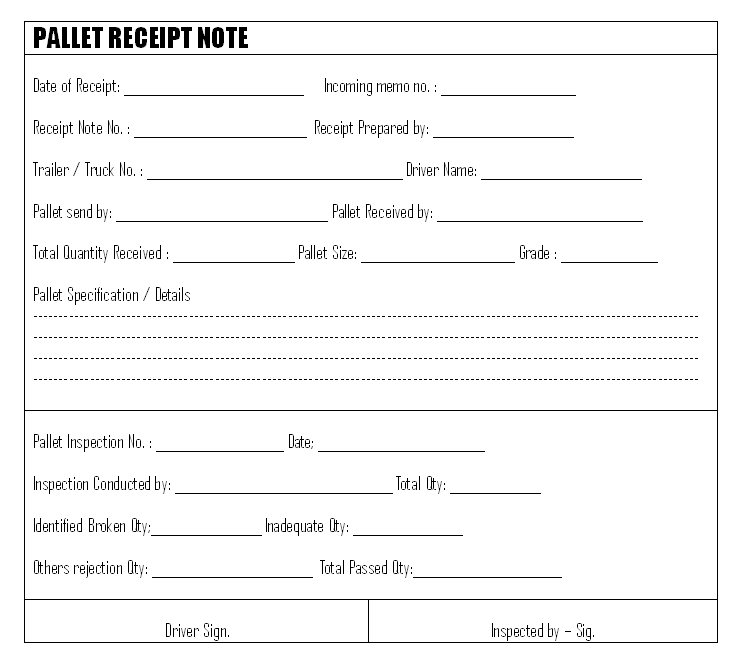 Training
For the pallet safety training is key elements that needs to proper conduct for compliance requirements of safety during installation pallets in system. The training is conducted for the incoming materials, handling, moving, storage and installation of pallets for the shipping materials, in the training most important parts are:
Identification of broken or inadequate pallet and how to identify
Information about broken / inadequate pallet in system that what happen, what is safety point of view it's important and how much risk for the personal safety and injury possibilities.
How to conduct pallets during movement, handling or storage
How to remove broken / inadequate pallet from system to avoid such incidents.
The training is also conducted on new employee joining and also arranged on periodic six months or annual training as per calendar, there are also internal functional training are arranged in quarter basics which is limited to departmental peoples only. In the training some physical demonstration and theatrical examples are given for better understanding. When the pallet are received that method are taken for pallet inspection, how to unload all pallet from trucks, how to stacking at temporary location for unloading and how to move and stack at storage areas training are conducted. For the shipping the product what is the role of pallets and how to install pallets in the shipping truck or containers, proper methods for stacking and reviews on it are major functions are discussed and trained.
Pallet Audit
Pallet audit is conducted for identification of the system leakage for in house pallet inspections, handling of pallets, moving and storage pallets system and installation of pallet are covered for the inspection to ensure the system of pallet safety and requirements are fulfilled during the working system. In the audits mostly conducting broken and inadequate pallet, hot the peoples are following procedures and what is the physical practice in working areas, there are also need to audit of each document to compare the system requirements. The purpose of the audit is identifying root causes and sources of cause to failures of pallets, system reviews and improvement of the whole system which pallet safety is conducted.
————————————————————————
Download format in word document | Excel Sheet | PDF format
Pallet receipt note in word document
————————————————————————