Permit to work system
Permit to work system procedure to establish, maintain and control over the activities at working or maintenance to ensure the protection of personnel form the hazards as per regulatory requirements.
Permit to work system are established for protection, precaution of safety in the working environment, controls over the activities of works to protect against hazards during the works at the various location at the company, permit to work system's primary requirements are the permit to work format should be filled before conducting the work to safety team ensure overall workplaces, deploy safety requirements before works started. Generally unauthorized employee required the permit to works such as contractor's employee and confirm the status of area where works under orientation. The permit to work required to control over the activities such as maintenance, renovation, construction to prevent the accidents. See picture below for the permit to work form for reference: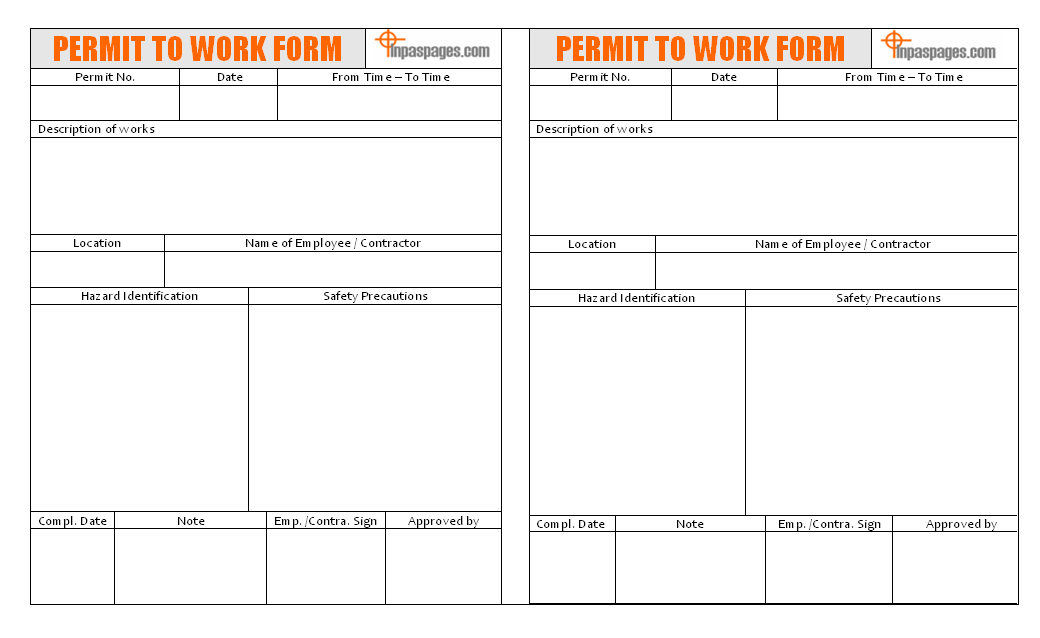 As you can see above picture, all the details are need to comply for the grant the permission from the authorized person, generally permit is granted by works manager to contract personnel or internal employee to arrange the safety requirements, safety signs and safety arrangements at the work place. When the permission granted that all the safety requirements and peoples who work or permitted for the work that should aware of the personal protective equipment use and safety precautions or before start the works, concern safety officer is aware with all details including frame of the works, some points where required before the start the job or during the grant permit to work are taken:
Safety Precautions – Check before start the work
Check the availability of safe access the job site to permitted personnel
Inspecting availability of sufficient illumination at work spot.
Check before the used –safety belts and appliances if the work at height.
Checking the personal protective equipment and proper used.
Status of the edge protections like toe guards, hand rails etc..
Where the work is started that should be necessary to display sign boards / holding "job in Progress" or "danger" etc.
All the used cables in civil works, electrical insulation, and mechanical used cable for pass electricity or piping works for gas or others.
There are most important to water and fire extinguishers are deployed at the workplace.
Before the start at machine / heavy equipment all the switches should be off as well as fuses are removed.
Before the start work, check the temperature at the work place should be normalized.
All flammable / combustible materials are away or removed from work site or proper staged at place.
Absence of hazardous substance is important and needs to checked and verified.
All the peoples should be used personal protective equipment at workplace.
All above points are general that required whenever permit to work are granted at the workplace, requirements of the safety precaution are raised in case of hot work, and confined space permit is granted.
———————————————————————–
Download Format in Word document | Excel Sheet | PDF Format
———————————————————————–