Petty Cash Book
If company has a multiple locations that need to manage the entire patty cash accounts with authorization from the management have checking accounts & funds are granted for the petty cash. Each location is required to reconcile its granted funds for petty cash on defined frequency of the checking & auditing, mostly companies are auditing each petty cash books monthly basis. All the receipts for the settlement (Re-payments) of petty Cash funds must be entered in petty cash book to maintain accounting effects of cash.
When the petty cash book' incoming balance (Amounts are paid by main cash for the further expenses) are debited in the petty cash book. In the petty cash book incoming amount will be debited in patty cash account as below:
Debit
Credit
Particulars
Amount
Particulars
Amount
Cash
$ 15000.00
Main Cash ( HO A/C)
$ 15000.00
Patty cash book must be detailed all the credited & debited amounts & provided information, report & record of petty cash book to main cash holder or entries should be submitted to cash flow. In case any entry are not completed i.e. some transitions that is incomplete … Example- if the cash are given to someone for the purchased material but still bills or any return not made. Those kinds of entries will be open are also aware to main cash holder by written condition for the maintain cash flow, Format for the petty cash book as below: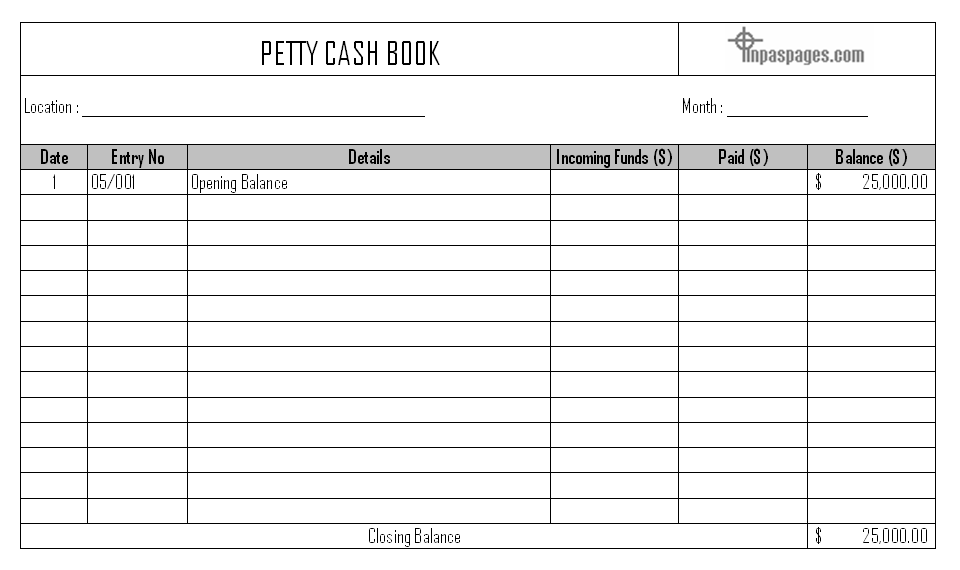 Petty cash book should accurate information, on opening balances are indicates in top of the page & same end of the month amount on hand must in bottom of the page with fair highlight for manner of accounting system.
End of the month or after the last business day of the month, all the petty cash book registered entries are reconciliation is very important to identify open entry & cash amount on hand to ensure all the entries are validated details of the petty cash book can submit to main cash account for further transitions. Same at cash on hand must be match with your petty cash book, in case difference found in the cash should detailed to main cash for the pending for next explanation.
EXAMPLES, SAMPLES & FORMATS
You would also like to read: