Planned materials information
Planned material information is maintained for acknowledgement of raw materials used for particular which final product and remains order tracking.
Planned materials information is established, maintained and update to managing internal planned materials for final products, and which final product is completed against which raw materials are used and to ensure that raw materials conducted for final product is done as per requirements and tracking remains orders. The records are maintained for acknowledgement and analysis purpose, which raw materials are frequently used for final product as well as which final product are made from which raw materials record are maintained, and the final products are remains to producing that needs of raw materials can get the idea to analysis the records of planned material information sheet.
Planned materials information is records are conducted from planning department and production department, from planning department the records are available for final product / sizes are needs for manufacturing and against which raw materials are used to complete it, the same records are available with production department but production having completion date and concern information are available for analysis. The records are used for analysis for raw material purchasing and requirements of stock in warehouses, management can also used these records. The raw materials purchase are depends on final sizes / product requirements & purchase department can get the idea how much final products are remain and what will be requirements for raw materials stocks needs in future, see picture below given as example format of materials details register for education purpose: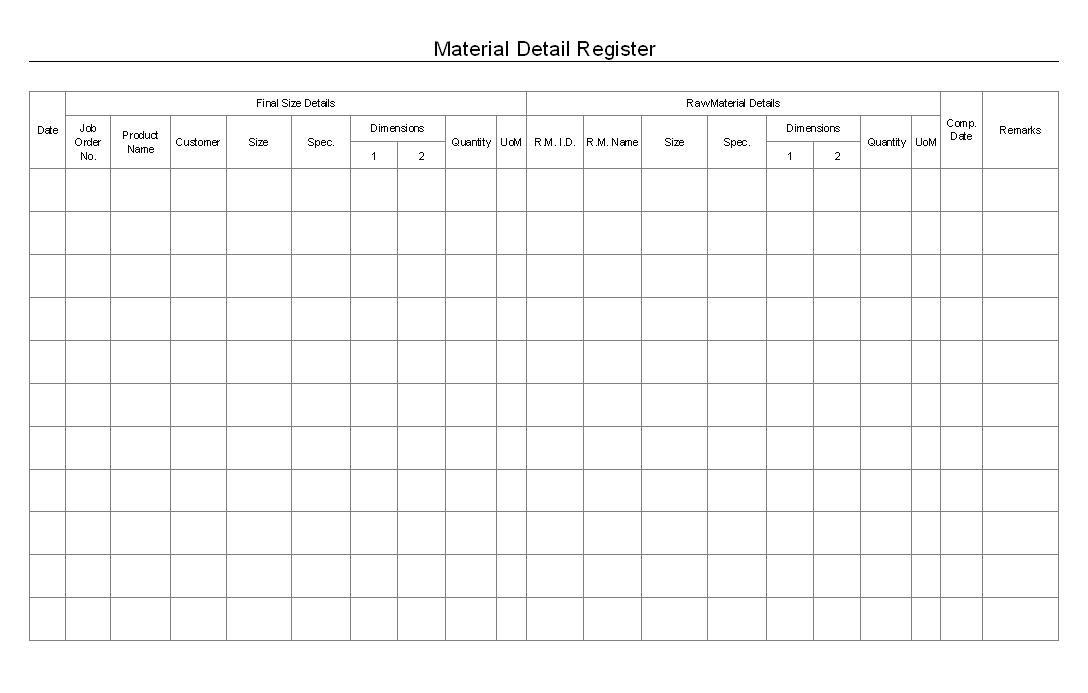 Material detail register is prepared by general manager for identify requirements of raw materials, analysis of materials tracking and managing raw materials / stock in warehouses as per pending final sizes and requirements of customers, the records are maintained by general manager and responsible for conducting records from various department, analysis of records identification of raw materials and managing final sizes as per requirements. material details register is important documents and its used are frequent for identification of raw materials purchasing and internal requirements, so its should be maintain regular is recommended, mainly the information from production and planning department and against raw materials requirements notes should be properly handle and update register is very important. The document is regular document that used and update information, and analysis is conducted monthly basis.
————————————————————————————
Download format in word document | Excel Sheet | PDF format
————————————————————————————