Portable machine transfer process
Portable machine transfer process conducted to managing transfer process by systematic ways and managing activities of transfer for records.
Portable machine transfer process established by equipment manager, and deployed in workplaces to managing each machine transfer process by systematic, installation, committing and implement requirements to installed locations for managing activity for compliance of internal departments requirements and same manage records of portable machine transfer process. The machine transfer request is send by user department, when any requirements are raised by user department for compliance of any tasks that needs the machine, generally are attached with manufacturing processes that equipment manager is received those requirements and move portable machine as on approvals of concern authorities. The process is managed as the mover services that handled by equipment handling department which is separate department, but in small scale industry this tasks are handled by maintenance peoples those well aware of machinery and equipment concern and care during moving and installation process.  Moving process of portable machine is occurred when department having the machine available with another department, or needs to procuring or available with store department, and the activity and arrangement for the installation, handling and moving process are managed by equipment authority.
Portable machine transfer process is handled by equipment handling department, and equipment manager is responsible for conducting, arrangement and deployment of manpower for complete moving and handling processes to one location to another location, and this moving process conduct and fulfillment are managed and only authorized by equipment handling department peoples those are trained and educated for it. The documentation for the requesting for requirements of portable machine and its transfer processes by user department, and the records and its concern document copies are maintained by equipment handling department, for the requesting for transfer, user department prepared portable machine transfer form, see picture below given example format for education purpose: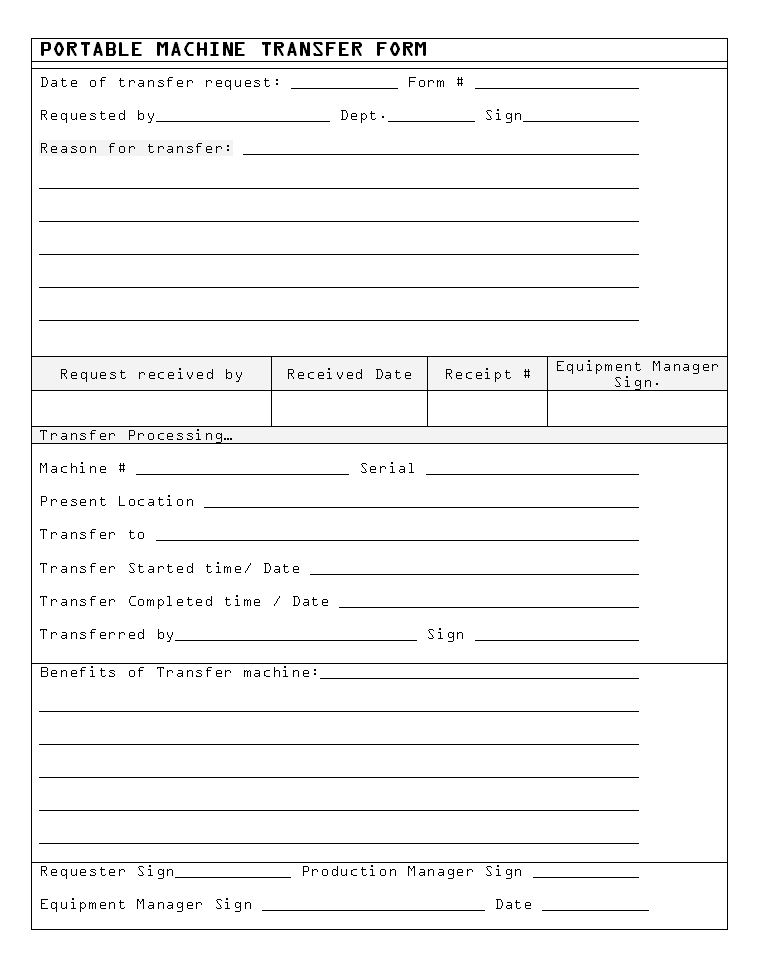 Portable machine transfer form is used for transfer portable machine transfer request to equipment handling department as internal departmental requirements to handle tasks and used to portable machine in supporting tasks are managed in this form. This form is prepared by user department and sending to equipment handling department, on request received, concern authority are arrangement & handle moving processes as describe requirements, locations and place where needs and requested to installation.
—————————————————————————–
Download format in word document | Excel Sheet | PDF format
—————————————————————————–