Product defect identification documentation
Product defect identification documentation is establish a standard process for maintain records and support to determine action for product defects and quality implementation.
Product defect identification documentation are prepared and deployed in system to managing standard processes for maintain records of product defects and its identification during quality and defect inspection processes, the documentation are established to ensure the all the processes are handled properly and identified all defected products are considered, separately maintained and its records are documented to determine proper actions to considering defect descriptions and its types. Product defects identification task is conducted by quality engineers during various processes, product defects can be noted at any stage of manufacturing processes hence each stage of process and its running process identification is matter to determine root causes and sources of causes behind of product defect, same the quality engineers are also conducting some in-process quality inspection is also one of the important source where product defects are identify, but in-process product defects which is conducted by concern quality engineers doesn't get the sources of defects hence the raw materials each processes and its standard defects should be understanding is important to determine causes of defects. Generally in manufacturing processes raw material defects, due to machinery and equipment defects, human errors and due to processes defects is major sources.
Product defects identification process is established, maintained and update by quality department, quality manager is responsible to managing product quality inspection and its concern documentation in manufacturing processes, and to determine requirements of actions which is needs to improvement of product quality. Quality engineers are responsible for conducting inspection at any stages of manufacturing and preparation of concern documents, hence product manager is responsible for support to quality engineers for product inspection and response on result of product quality concern issues and implement actions at appropriate places. All the identified product defects are recorded in single format which is prepared by quality department for recording purpose, see picture below given as example format of product defect identification sheet for education purpose: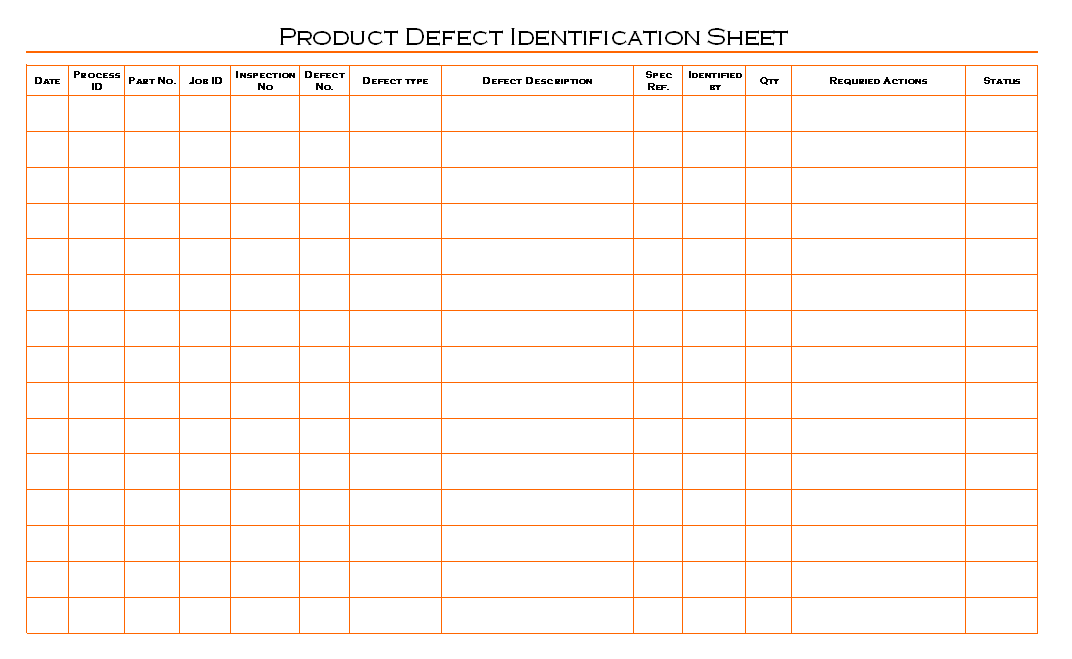 Product defect identification sheet is record set of the defected product which is identified from running manufacturing processes, quality engineers are recording defected product and stored separately to avoid mixing, during the inspection process quality engineers are recorded information are helps to identify root causes of defects, all reasons are conducted and analysis for determine action plan to improvement of product quality and minimize product defects during manufacturing activity. The analysis conducted on high priority and quantity rejection are on priority for reduction required hence quality peoples are identify defect types are helpful for avoiding repeatable defects in product quality.
All records of product defects and it identification documents are storage at quality department and quality department is also analysis information with the previous years information, with current records to find out solutions, motive of the records are is proper solutions and improvement of product quality.
——————————————————————-
Download format in word document | Excel Sheet | PDF format
——————————————————————-