Quality non destructive testing
Quality non destructive testing (NDT) is inspection process that conducted to find critical issues that indicate poor quality of materials.
Quality non destructive testing (NDT) is part of quality inspection process is conducted to identify critical issues in produced materials / product by non destructive testing with special equipment are deployed in quality department and the process is conducted for each product to maintain quality of product and managing product standards. When the product conducted during the manufacturing processes there is some test are conducted in in-process quality inspection but there are all tests are not possible to managed during manufacturing activities, when the batch or lot are comes from manufacturing facility to quality department, quality inspection team is conducting visuals, dimensional and non destructive testing is conducted with some product needs, and the product standards and technical requirements are required so, the quality team is managing quality non destructive testing for identification of minor or major defects in the product through special equipment and processes of NDT processes, which is not possible to visual or any other test can done, hence the non destructive testing is important part of the quality department where special tests are conducted in as the NDT processes and this process can also conducted by qualified inspections who had certified by authorized agency to conduct such tests for product quality.
Quality non destructive testing is quality inspection process that its procedure is prepared by quality management, and quality manager is responsible for deployment of procedure in existing system, training to qualified inspectors, monitoring on each activity and controls over the processes that arranged for identify product defects during quality non destructive testing, and the documentation are also needs to verify by quality manager for better performance and determine action for improvement of procedure. the quality inspection team is conducting process and prepared documents for tests, the planning for the testing are managed by inspectors, see picture below given as example format of NDT test plan, here as below given as example for education purpose: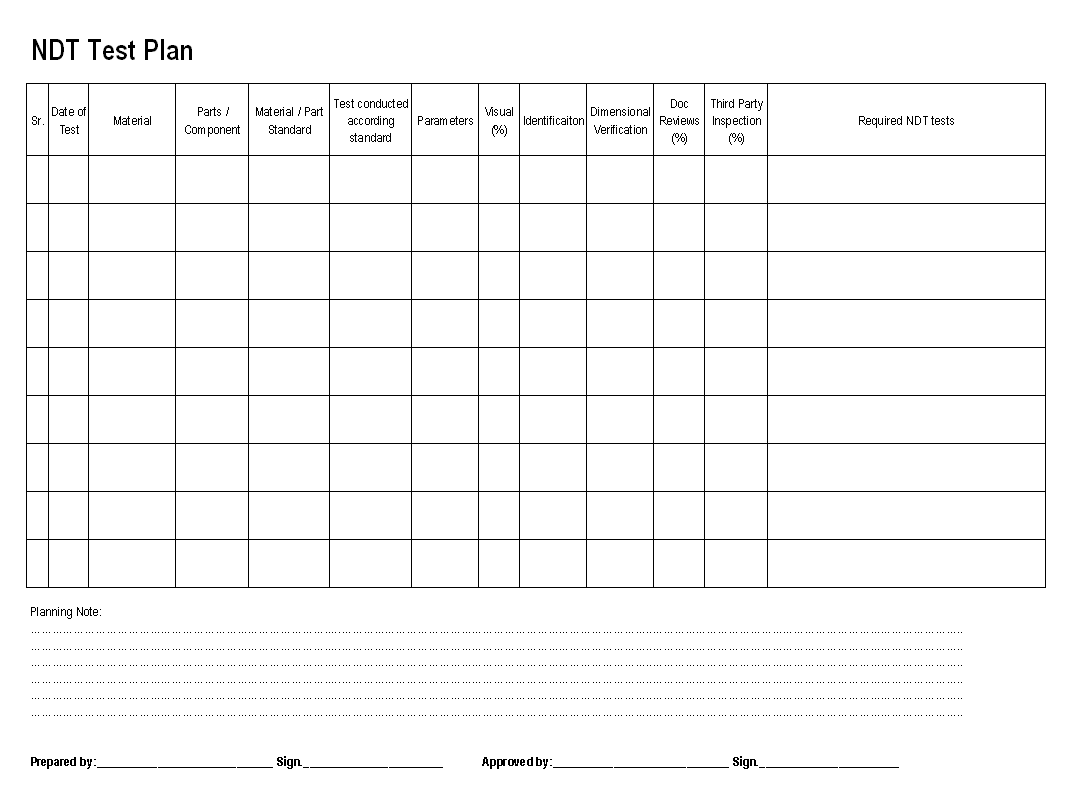 NDT test plan format is used to recording information, process activity and planning for the requirements of tests on product, where special tests for the non destructive test and its concern information are managed in the planning format, the plans are handled by quality inspection teams and same activity conducted, inspection procedure are managed and implemented in the facility.
—————————————————————————-
Download format in word document | Excel Sheet | PDF format
—————————————————————————-