What is raw material control?
Raw material control is defining criteria of acceptance levels for verify raw materials as product quality requirements to meet end application.
What is raw material control process?
Raw material control process is structural stages to implement defined scope & criteria to verify raw materials to meet standard requirements & sustain control measures on raw materials transitions.
Overview
In the manufacturing unit, raw materials i.e. mother materials is important for the producing finish product. All the processes in manufacturing facility are manage and passing raw materials at the various level of the process stages. To develop product by various manufacturing techniques are use or as per standard manufacturing practices. Hence the raw materials is prime requirements and middle of each process that important for final output.
The final product quality, requirements of technical & specification, end application requirements are depends on raw materials. Which is enter in manufacturing facility for producing materials that needs to proper care. Normally needs to attention during purchasing, handling, moving, loading and producing at facility for get proper output as expecting.
Controls on incoming materials
The management should aware the inputs requirements for particular final product. Even and its raw materials requirements to achieve perfect quality product. The needs to manage each activity of raw materials concern with proper procedures. To eliminate possibility of rejected or defective materials inputs in manufacturing facility. Require the managing the raw materials as the perfect inputs needs to deploy controls requirements on the raw materials activities.
That are raw materials purchasing, handling of raw materials, storage and stacking raw materials, issues – moving and in-processing raw materials. There are many standards processes to manage raw materials as per product standards. As well specifications, minimum requirements of raw materials storage & handling should be comply to get enough results from outputs. The management team is verify the requirements of raw materials and define the scope of verification, criteria that help to inspection team. To effective identify and match the requirements to ensure the raw materials quality, and the standards.
Define the scope for using materials for in-process
The raw materials control process is establish by management team to manage raw materials, identification of defective materials. As well measure product raw materials quality to suitable for manufacturing facility. These requirements, the controls are deploy from raw materials purchase to in-process loading. Its necessary to each tasks in-between should not be skip or adjustment to lake of important process that weak the system of controls.
The raw materials purchase team is responsible for communicate with marketing team, quality & production teams and suppliers on priority. To ensure the incoming raw materials, the purchase team is also responsible for verification of internal requirements that is marketing requirements for the producing materials as customer orders. According to marketing and product requirements, raw materials purchase team are communicate with supplier, provides technical requirements and place order to qualified supplier.
Inspection at storage of raw materials
On incoming raw materials, raw materials storage team is conducting the process of handling and storage at raw materials facility same the production and quality teams are involve in the various processes of verification of raw materials. As well standard verification and quality of raw materials. The quality assurance team is prime responsible for conducting necessary tests on raw materials to ensure the raw materials standards and technical needs.
Quality team is responsible for define control processes and provides instructions to raw materials team for handling, storage and issues the materials methods and guidelines as needs of instruction set to dealing with raw materials. The quality team is defined acceptable level as per product standards, technical requirements, customer specific and characteristic requirements and end applications.
The raw materials controls are manage various levels like the incoming raw material handling, storage, issues and loading for in-processes are major stages that passed during the cycle. Hence the controls measures are deploy by quality team at each stage to minimize damage, defects or any other issue with raw materials during various processes.
The controls measures are deploy by quality department and needs to follow concern department or process owners that quality team is also equally responsible for monitoring and improvement of processes for better performance. The quality team is verify the raw materials to conducting various testing.
Raw material Control sheet
The documentation are managed accordingly. See picture below given example for raw materials control sheet: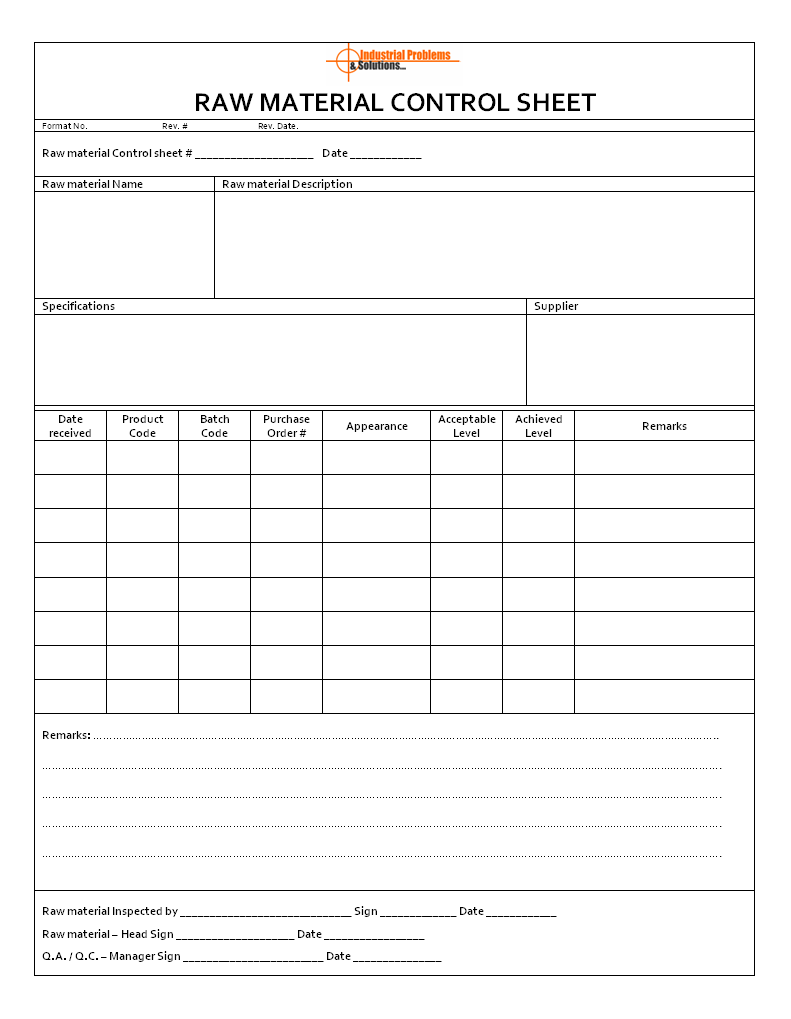 Raw material control sheet format is prepare by quality team for verification of raw materials. To identify requirements of controls, current status of controls deploy. Its results as well as raw materials condition to determine the raw materials used in manufacturing facility.
The controls sheet help to manage the each raw materials used for production lines. Those are manage at various locations, machine and processes. As results achieved through control sheet for improvement of productivity and expecting results during manufacturing processes. The processes and deployment of control measures are depends on raw materials specification. The specifications levels of acceptances of raw materials should be clear during the verification processes. The documentation for the raw materials control concern manage as per standard documentation system.
—————————————————————————
Download format in word document | Excel Sheet | PDF format
—————————————————————————