Sales performance analysis
Sales performance analysis is established for analyze information to identify performance of sales against production planned and controls over waste during production.
Sales performance analysis is established and documented for analyze information which is collected form production lines, waste yards and dispatching and shipping department to identification of the sales performance against production had planned, schedule customers' orders to shipping targets and planning to packaging and dispatch on end of the month, sales performance analysis is also conducted to identify causes of wastage and rejection of the product during manufacturing to minimize waste and maximum product sale as per target defined as per planning department.
Sales performance analysis and its documentation is conducted by general manger of company, and responsible for conducting, collection of information from various department, preparation of reports and trend charts, and managing all the documents for analysis to identify sales performance of month, sales performance is maintained monthly basis, when all transitions of billing is conducted, all shipping transitions are on completion the database updated to perform task of analysis. In the sales performance all the information are put together and identify percentage of sales planned target percentage and against the actual sales percentage are given in the analysis as result of identify monthly transitions of sales, see picture below given as example format for sales performance sheet for education purpose: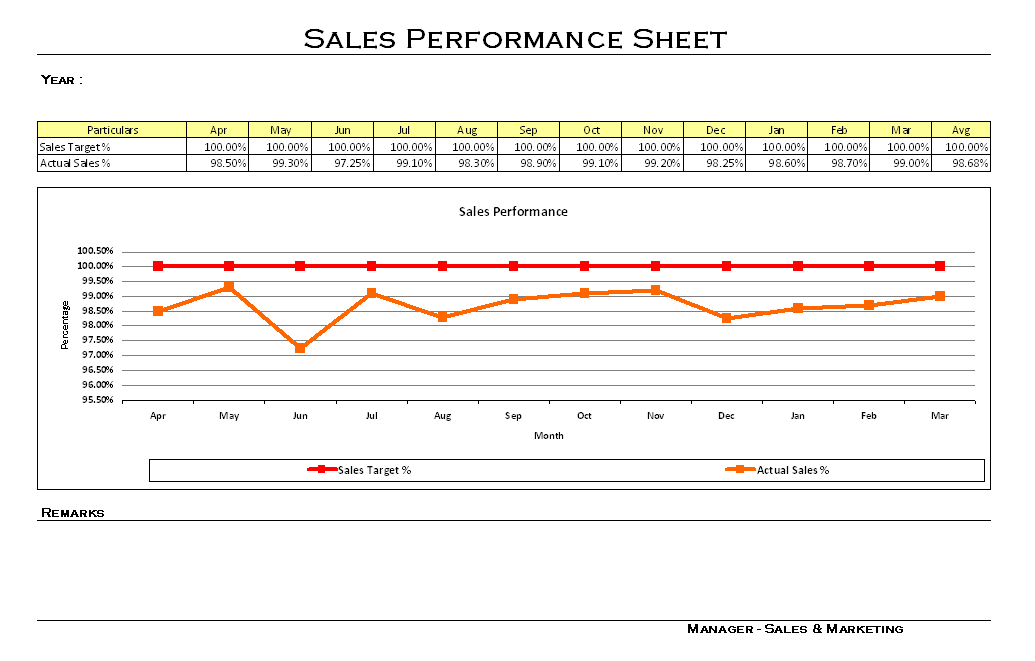 In sales performance sheet, the information is comes from shipping department which is conducted as actual sales done during the month, and those percentage are calculated on base of the production and sales targets are managed for appropriate month, the system of actual sales calculation is simple but important to identify root causes and level of percentage improvement in sales performance. The document is explained month wise percentage information of sales targets deployed and against actual achievement at end of the month. Sales performance sheet is important document for sales performance analysis, month wise and end of the year full views helps to determine actions, but at the end of the month information of percentage gain or reduction is alarm to immediate proper configuration of system to increase percentage of actual sales.
————————————————————————–
Download Format in Word document | Excel Sheet | PDF format
————————————————————————–