Supplier Performance Monitoring | Management & Evaluation
What is supplier performance and monitoring?
Supplier performance is results of evaluated supplier performance by analyze, measure and manage performance through supplier performance monitoring.  Supplier performance monitoring process is assessment of the material quality, quantity and services with specifications. This is active part of supplier performance management.
Overview to supplier performance monitoring
Supplier performance monitoring is continuous running process. Monitoring of performance is key aspect of product and services management. The process is undertaken before procure / or and procuring the materials. Performance monitoring conducts for the purpose:
All the supplies, and suppliers are meeting the performance criteria that may include services, quality, quantity, delivery period etc.
To identify space for improvement, improvement of supplies chain & supplier's internal system.
The main purpose of the monitoring of supplier performance is to evaluate generic criteria against their contractual obligations. In the monitoring phase, there are three major measures or key categories which are; quantity, quality and time. Analyzer monitor measures i.e. key categories to match with performance metrics and performance baseline.
Supplier performance monitoring process
There are a number of key factors are used for monitoring of supplier performance. But which can be used to determine whether good practice is being set it depends. Here as some examples of these key performance indicators i.e. Elements of supplier performance monitoring process:
Delivery Period: Analysis team is verifying each supplier delivery performance to identify delivery period variations.
Quality rating: Quality of material is important part that never compromising in case of chip pest rates. Same rater's suppliers possible in quality deviation, variation, in case monitoring very helpful to evaluate supplier rating.
Delivery Rating: Which suppliers performed well in the bunch of supplier? Delivery also should to take attention among supplier's delivery schedules, follow up and short delivery period requirement are major tracking issues.
Assessment: Assessment and its result gives an overall picture for understand the individual suppliers ranking. The team monitor individual supplier assessment's previous rating to ensure status in terms of trend – which is going higher or lower. Depends on future deals with suppliers upon assessment trend.
New product / process potential: Management always expects that the new product development & compliance are needs excellence supplies. The team check each supplier design structure, delivery, innovations, end application compliances, and competent for new product. According to above compliance, team make the rating on this column.
There are other elements such as premium freights and general approach are also part of the monitoring of performance. But key elements are described as above are more precious. You can find the ready format of the supplier performance monitoring record as below: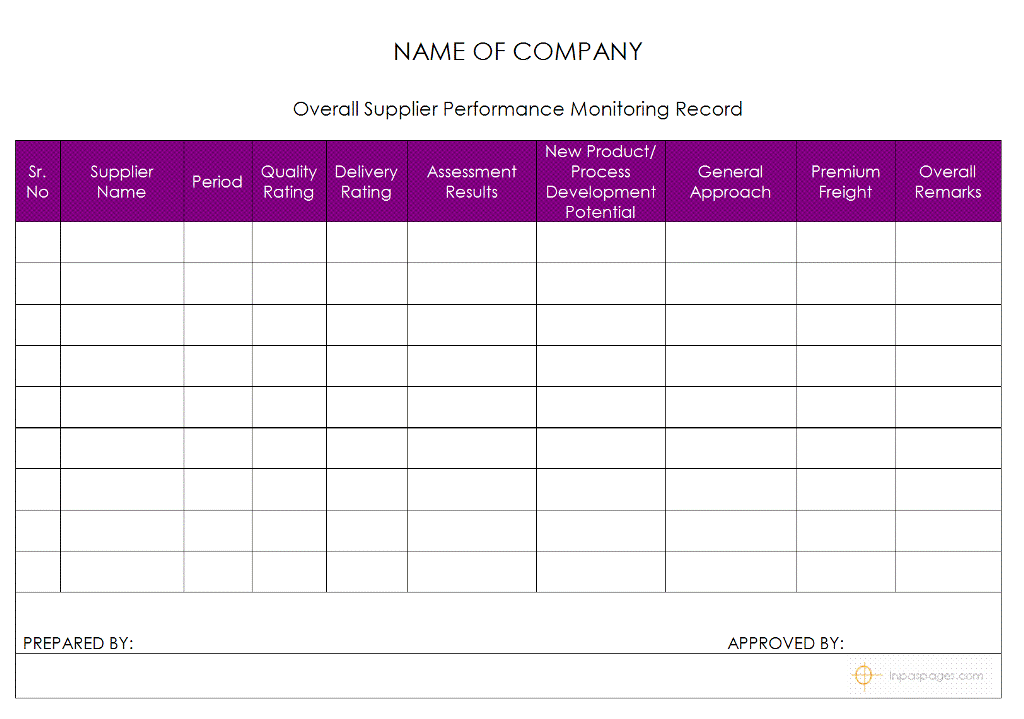 Conclusion
On any stage or any activities, minor or major can impacts on overall organization structure. If it about supplier than priority to focus on activities of the supplier with us. Hence supplier providing raw material in case of need take attention can reflect the sales growth, customer satisfaction & financial affects. What is best way to monitoring on supplier which performance is acceptable or company takes a advantage on it. Assessment of each suppliers, data collection and analysis is way of solution.