System compliance documents
System compliance documents describe information of system conformity and progress status for improvement.
System compliance documents describe information of compliance to system requirements to maintain quality of product and controls over costs are needs proper establishment of procedures and guidelines for manufacturing, processes and supporting activities in organization. System compliance documents are established to managing stages of each progress of tasks that conducted for system improvement which are identified during audit as scheduled for identification of non conformity of system, and during the audit any non conformity identified that needs to compliance according internal management system which is maintained accordingly to international standards system, the records for the system compliance are maintained, updated & handled as per documentation system. The maintain standards system in organization, needs to proper audit of system frequently, the verification on each activity, process are conducted as standard requirements which is directly or indirectly affecting product quality, the standards system help to improvement of product quality and controls over costs of product during manufacturing and producing activities that needs to managed system to maintain activities and sustain good practice.
System compliance documents are prepared by management representative to collecting audit reports form qualified auditors, management representative is responsible for managing and arrangement of system audits, and selection, assignment of duties and responsibility to auditors, hence auditors are responsible for conducting documents and filled as visited and audited areas as schedule defined by management, the system compliance documents are submitted to management representative on compliance actions are conducted and completed. See picture below given as example format of compliance checklist used by auditor to verification of each areas of system & processes are in scope, below picture given for education purpose: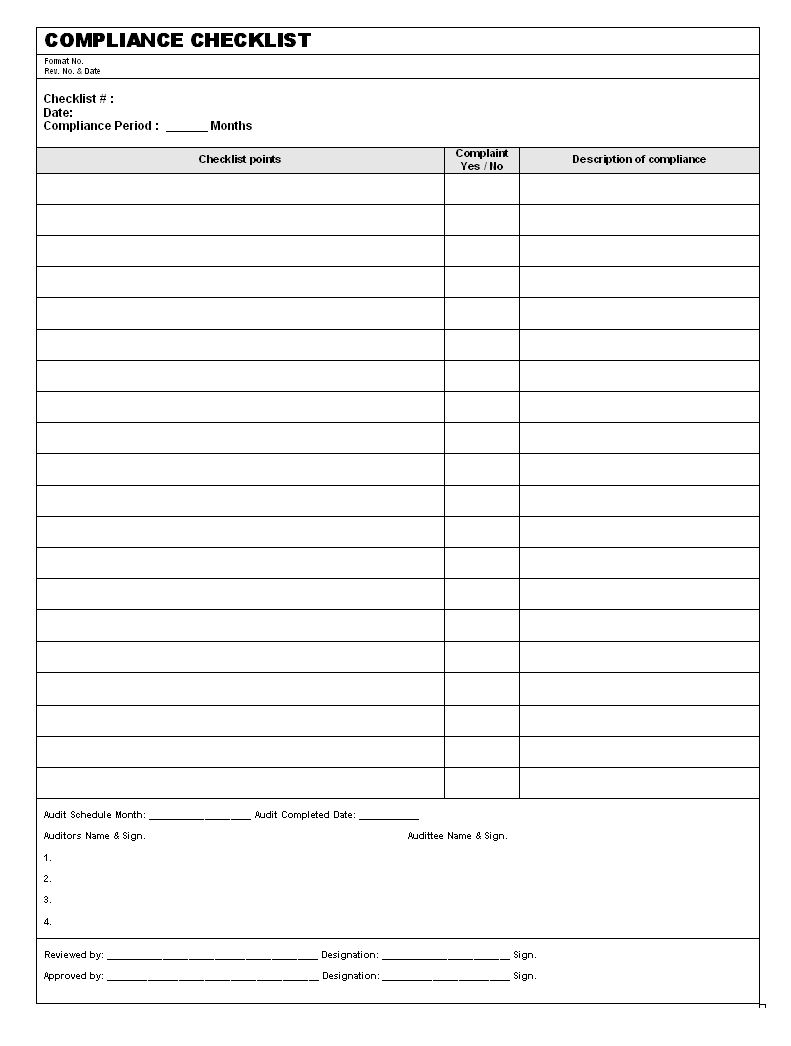 Compliance checklist is format that used to verification of existing system for improvement of product quality, managing and sustain best practices in workplaces to controls on costs of product to manage each processes and activities well organized to minimize or reduce percentage of waste during manufacturing processes, the advantages of system are conducted and direction of goals are managed as internal requirements and same the system is managed, the compliance checklist used when the system is established and needs to verify system processes and documentation that conducted for processes management, and during verification auditors are checks and identify any non conformance and same the compliance are managed by concern department.
—————————————————————————–
Download format in word document | Excel Sheet | PDF format
—————————————————————————–