A bill of materials is an list of materials use for manufacturing such as raw materials, assemblies, components, spares & parts and anything which is require for manufacture to finish product.
Overview to bill of materials
Bill of materials is playing important role to producing materials in production lines. Normally planning department is initially prepare the bill of materials to review the customer order. They will insert the work order and prepare the list of the materials are use in the manufacturing process. The bill of materials may includes raw materials, assemblies, components, resources, and all materials which are use to finish product.
Naturally the bill of materials is depends on customer orders. Planning team review the customer orders, technical requirements,customer specifications, product characteristics, and end application requirements. According to the standards needs, planning team will be generate the work order to develop the product.
How to prepare bill of materials
Actually,the preparation of bill of materials is depends on the customers order. as per customer requirements, and details are receive from customers for product requirements, materials may insert in bill of materials. Planning team collect those information and prepare the job card, this job card will be distribute at various department as official order for production.
Here are some steps that may help to preparing the bill of materials (BOM)
Review customer orders – identify the customer requirements such as technical requirements, product characteristics, specifications, grades, materials types, quantity.
Compare the customers technical requirements with product's standards and technical details. See the feasibility of the product at manufacturing stages.
Verify the available resources at the manufacturing facility.
Collect the details of available equipment, manpower and facility for go head.
Check the customer provided product's design and review the initial requirements.
Select the raw materials in BOM sheet.
Verify the availability of the supporting or process materials, select appropriate materials and insert it in BOM sheet
Describe the technical aspects, materials and process requirements.
Include the technical sheets, drawing and other supporting document with bill of materials.
Distribute with all the locations as process sequence in manufacturing facility.
Here we are concentrating on bill of materials which is important part of the production lines.
Additions in bill of materials
Here on of the important this that is most of the businesses are not aware of avoiding. This is addition in the bill of materials. Normally, most of the businesses are not aware or more discussing about the additions in bill of materials. but this is also very important and necessary part of the production lines.
In general pharmaceuticals & food industry is much aware of the recipe (Food ingredient). They are taking a addition method is very seriously. Basically steel, and engineering industries are normally concentrate on product tolerance / variations and deviations. Same think addition is tolerance and control measurement to comply end application requirements.
How to manage bill of materials in production lines?
The engineering and steel industry are establish a template type job card / work order to develop product. Accordingly all concern processes are managed to follow it. But what if the production lines are independently manage the bill of materials, or follow only job card to ignore current requirements.
Definitely the job card requirements are consider and cover customer requirements and standard template for each product. But some time needs a addition to conduct specific product or as inserted similar product (on absent of regular materials) as acceptable for standard raw materials substitute to producing materials.
Sure production lines should needs to care about the regular tasks has inserted different materials for production lines and needs to further attention during producing final product. On base of experience of production engineers, some BOM is used in production lines to consider requirements of product, to meet final product, and that activities are recorded in specific file to manage documents for particular head.
Bill of material addition log sheet
See picture below given as example format of bill of material addition log sheet or daily addition register for education purpose only: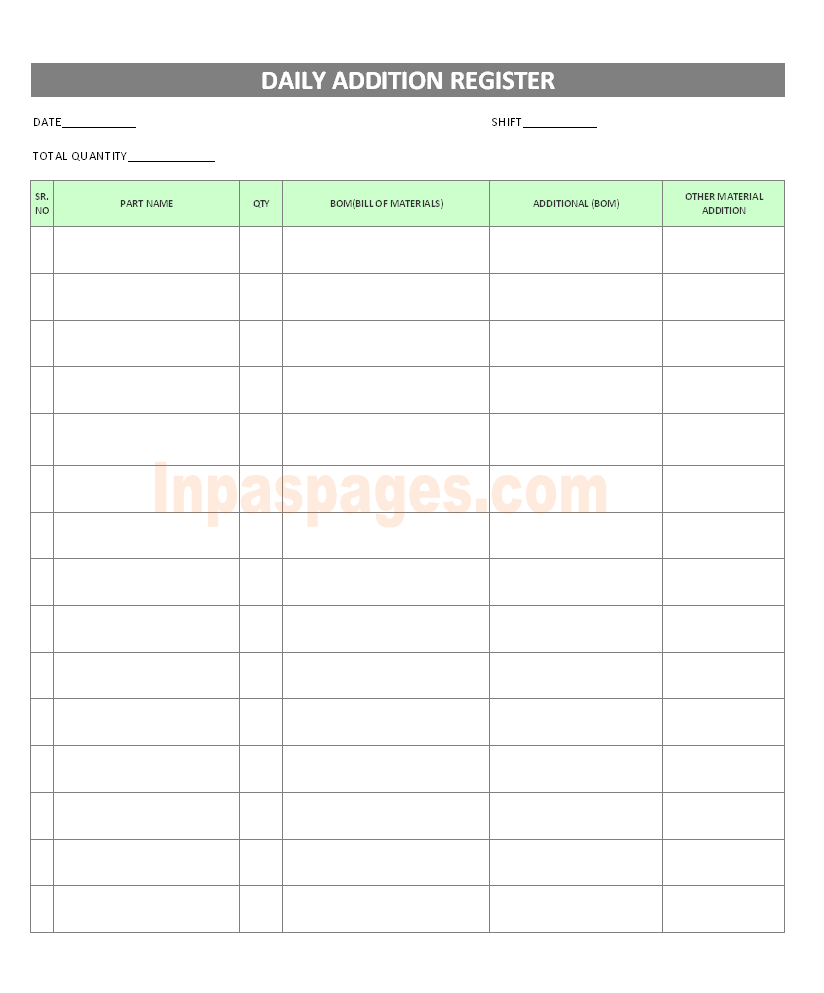 About daily addition register
Daily addition register format is regular document use in production line. It should be manage as standard document and sustain for standard practice. This document is prepared by department supervisors and update on applied addition in BOM during production processes.
The format is verify by department head on daily basis is recommended. This document is used to verify and implementation of planning to sustain planning on substitute materials used for finalize product or any other requirements. The documentation maintained and update as per documentation system.
—————————————————————————
Download format in word document | Excel Sheet | PDF format
—————————————————————————