Change control is systematic approach, the process defines the controls to ensure each changes made either in product or system is documented, controlled and properly coordinated. Even changes will be effectively utilize the resources are in used of processes.
Overview
The consider requirements of internal management system during defining / considering scope of the processes / procedures. That should be covers the all changes in organization. And should be in line with assessment, document management and reporting, notifications and controls of each changes with system. Actually the scope is depending on internal system.
The scope should be cover all aspects and possibilities of during and after change effects. The quality assurance team are manage the controls & reporting activities. In case any changes are measure withing the processes, the team will be verify and report these changes for effective control.Hence the quality assurance is prime responsible for the preparation and updating of the change control procedure.
The execution of the change control processes in accordance with defined, deployed measurements and applicable causes of procedures.
How to apply best practices in processes?
Measurements of issues & assessment
The best practices should be applied in standards operating procedures must apply to all the changes that can impact the outcomes. And effectiveness of the processes on the floor as indicates particular standard operating procedure. Some controls in the process floor is needs in sequences to constantly understand and ensure the endorsed position of internal systems issues to the alteration.
It is very important that the each issue should measure with specific measurement system. Hence, it may easier for classification of each change, and will be easier for put on accurate level. The system should have specified categories of changes that effects on product quality that should prioritize accordingly.
The measurements of classification can be various methods and types can be recommending. But it's should be easier for peoples working with it. The complexity and impacts on the processes, categories of change should determine the necessary level of change control.
So, how to determine level of change?
It is very important for quality team to measure each change through it's risk level. It may cause negative effects on the quality of the product, workshop safety, concentration and identity. Generally, peoples are defining minor and major changes but it's all depends on the internal management. That can define the change as in status, priority, requirements and impacts to easier for peoples to handle control of each change effected.
During the defining the standard operating procedures, the management is also defining scope and applicability of the procedures. Appropriate situations when the procedures should immediate applicable to identification and control on the situation accordingly.
Some basic examples that help to understand when the controls should be effectively implement at appropriate places. Such as raw materials and purchasing activities, production areas and related internal supporting system, packaging materials and technical corresponding.
The quality testing, methods of testing, measurement, methodology, specifications, quality documentation, control related procedures, validations, equipment. Its testing methods are major applicable subjects.
See below table helps to understand how to manage changes, setup priority and deployment needs of changes. (Below examples are education purpose – Case study by: Inpaspages.com)
Major Change (High Risk)

Minor Change (Low Risk)

>> Change of the producer / manufacturer of raw materials – Approvals, implementation / vendor

up-gradation

>> Change of the cleaning personnel not involved in Manufacturing activities, Raw materials Handling & Storage, Packaging or any production (R.M.Transfer)

Activities

>> Technical details – Product / Process, upgrade / downgrade, specification, Parameters change etc.
>> Raw materials / Technical / Packaging document font change, dragging any field, report view change etc.

Corresponding media change, Technical sheet implementation (minor)

>> Raw material testing method, measurements, testing method change, testing equipment changes
>> Equipment / Device installation, removing which is now directly impacting on Raw Materials storage and packaging processes and quality.
>> Storage – Storage media change, Storage location change, Storage system, Rack, Method, Environment change
>> Raw material Packing – Packing & packaging change, Material change,

Packaging material specification change
Change Proposal announcement
The management should deploy the system and apply at in the internal management system. Each activity, processes should be documented and estimated before any change made. Or impact which such change made on it and each activities, processes and documents should be approved by authority. The management / internal management system should handle the standard operating procedures.
That is indicate the change controls and its related document like change control sheet, change control form and results documents. Which shall be filled in and authorized by concern. The responsible department must prepared change control record to communicate each change effecting existing system. See the example format of Change control form: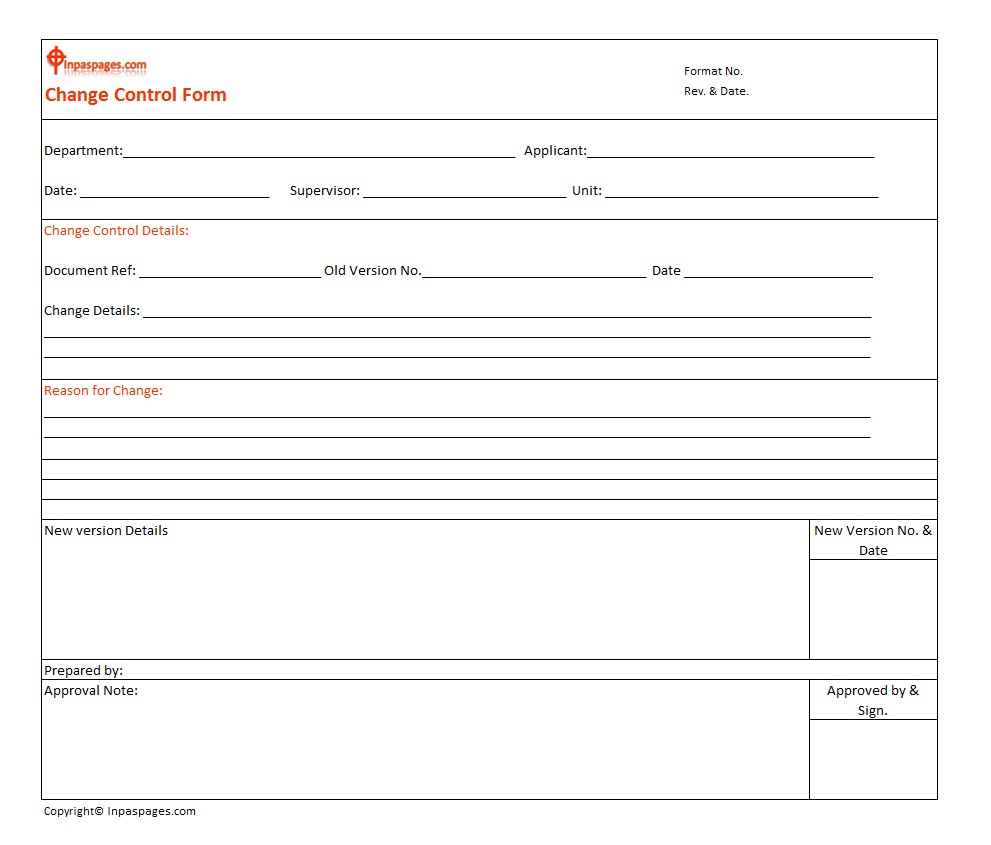 The management should have prepared standard operating procedures. That describe the documentation and guidelines for completion the change control form. The department personnel are prepare complete the change control form as on requirements. Once the form filling process is complete then they will be submit to quality assurance team. The quality assurance team are verify the details of the change control form. They will be review the details of the form are properly detailed and all the proposed changes are addressed.
Structure of change control documents
Documentation management system should have covered the requirements of change controls. Related documentation, each document should be controlled and unique identification number established. The numbering, formatting and structure of documentation should be verified and approved by authority. Also the quality assurance department approvals, reviews and periodically verification conducted.
Monitoring of change offers
Any change offer from various department are receiving and implementation process is conducted. Through responsible department, the quality assurance department is responsible for the recording of each document related to change control. The quality assurance team is maintain each document related to monitoring and tracking activities. To extract the information to successfully implementation.
Assessment of change offers
All the change offers shall be reviewed by quality assurance department. Team is responsible personal are collecting information and reviews specialist in line with change assessment requirement. Generally, experts are review the change proposal for its assessment phases. The documents are verify, reviews the possibilities and risk assessment. To determination of process to be performed, project closing target date, change procedures and related documentation. The approvals and notification of activities with performance and closing of process / procedure approvals.
In the change control and assessment offer, most important part is the risk management that is risk assessment. It is asses whether change offer related to best practice for the risk management. When any change proposal are offer, the risk factors, risk levels and its proposed controls should cover to verify the plant requirements. Determination of the risk impact and probability is important to establish good manufacturing practice.
Any change can be direct impact on the processes. That may be highly consider as critical risk level. Hence, each risk should define in proper category, risk levels and potentiality. Once the risk levels are properly maintains with accurate documents. The team can easily identify which risk is minor and which is medium type risk. It will be also easier to eliminate possibility of risk control and reduce significantly.
It is also very important that the each change offer should comply that deadline period. Quality team normally define the deadlines for each changes, and its priority.
Succeeding of change control
The quality assurance is responsible for the documentation management related to change controls. All the documents, records and related materials are manage and may use for monitoring.
General reviews
It is standard practices of business, every document of change control, processes and its results are conducts for the periodic reviews. The review process will be ensure:
Direction of process,
Change proposals are assess, and
All related reports are maintains accordingly.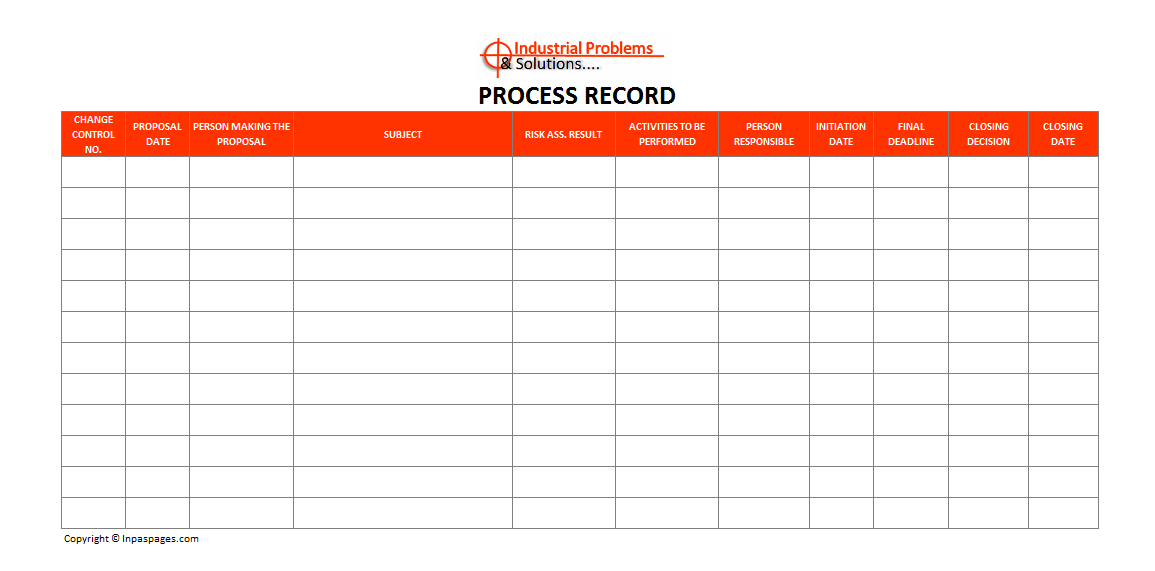 ---