Break Down request memo
Or
Machine Breakdown repair note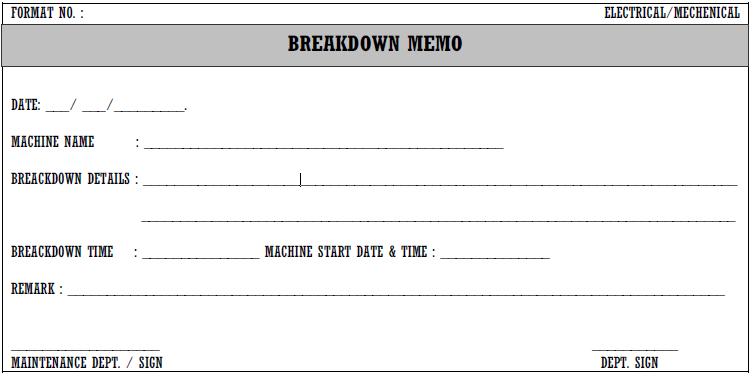 Machine Breakdown request Memo or Breakdown repair note are gives user department to maintenance department as request to repair the machine / equipment having a trouble. In the request note user department gives as short note to maintenance department details about machine having kinds of problem, concern with electrical problems or mechanical problems are facing.
When Maintenance head received this memo or request note that, Mechanical & electrical engineers are visit the machine which is in trouble, both the engineers are inspect the machine, identify problems, Shoot out problem & return to head for any further assistance needs.
Machine Breakdown memo is ready useful for both department, maintenance head before shoot out problem categories it's a electrical problem or mechanical problem or both. These details are very useful for more analysis to concern.
In this Memo or Request note is cover below details:
Date of machine breakdown
Name of Machine or Parts of Machine
Short Description about breakdown of machine
When Breakdown happen?
Remarks, if any to help for maintenance department
Mostly industry is follows above kinds of breakdown memo or required details are available in this memo.
Download Breakdown request Memo or Note