Compressor service / Compressor Preventive Maintenance
Machinery, equipment & devices are important part for the manufacturing unit, in case of any machinery, equipment of devices having the trouble that whole processes can be stop at the plant, all the supporting machinery is very important same as main manufacturing machinery, reason that the machinery are used in manufacturing units' and its parts are easier to available at the consumable goods store as frequently requirements are comes to store department, but the some supporting machinery and equipment are mostly run as substitute or some time that frequently not in used that critical parts are rarely available with store department, that is the reason those machinery are very important to breakdown on of the production.
Compressor is one of the most important machinery or equipment that used in manufacturing unit and its maintenance are need to frequently taken at place for maintain is life. Compressor service and its preventive maintenance are need to documented for the maintain records of the each compressor in industry.
Compressor record needs some information that covered requirements to understand maintenance people for next preventive maintenance date, this information are used for the maintenance task to records the information and its activities are done and requirements, generally below fields are used for cover the requirement of records:
Identification number of compressor
Location of the compressor is / are installed
Part name of the compressor which is going to change / repair of going to service
Current running hours of compressor – each compressor having it self life the recording hours that maintenance people get idea, when this compressor will required to change or repair for the run long.
life of spare are count in hours to maintain uniformity of the compressor hours, life of spare & parts are mostly requirement of the compressor records that on base of the life of spare are maintenance department will perform the task of replacing.
Service indicators hours are used for the as due date of the spare that changed in recent maintenance, when the self life is over of spare parts that need to change on time to increase life of compressor.
Service date
Next service date
Cost of part is used for the counting costing of  the compressor in its self life that how much times / which parts and what was the cost of those parts can be found on base of the records
All the records as above are very useful for the counting of costing as well as it is also maintain as history card of the compressor, all concern spare / parts are changed during the preventive maintenance are recorded in this format, hence this is very important requirement for the maintenance department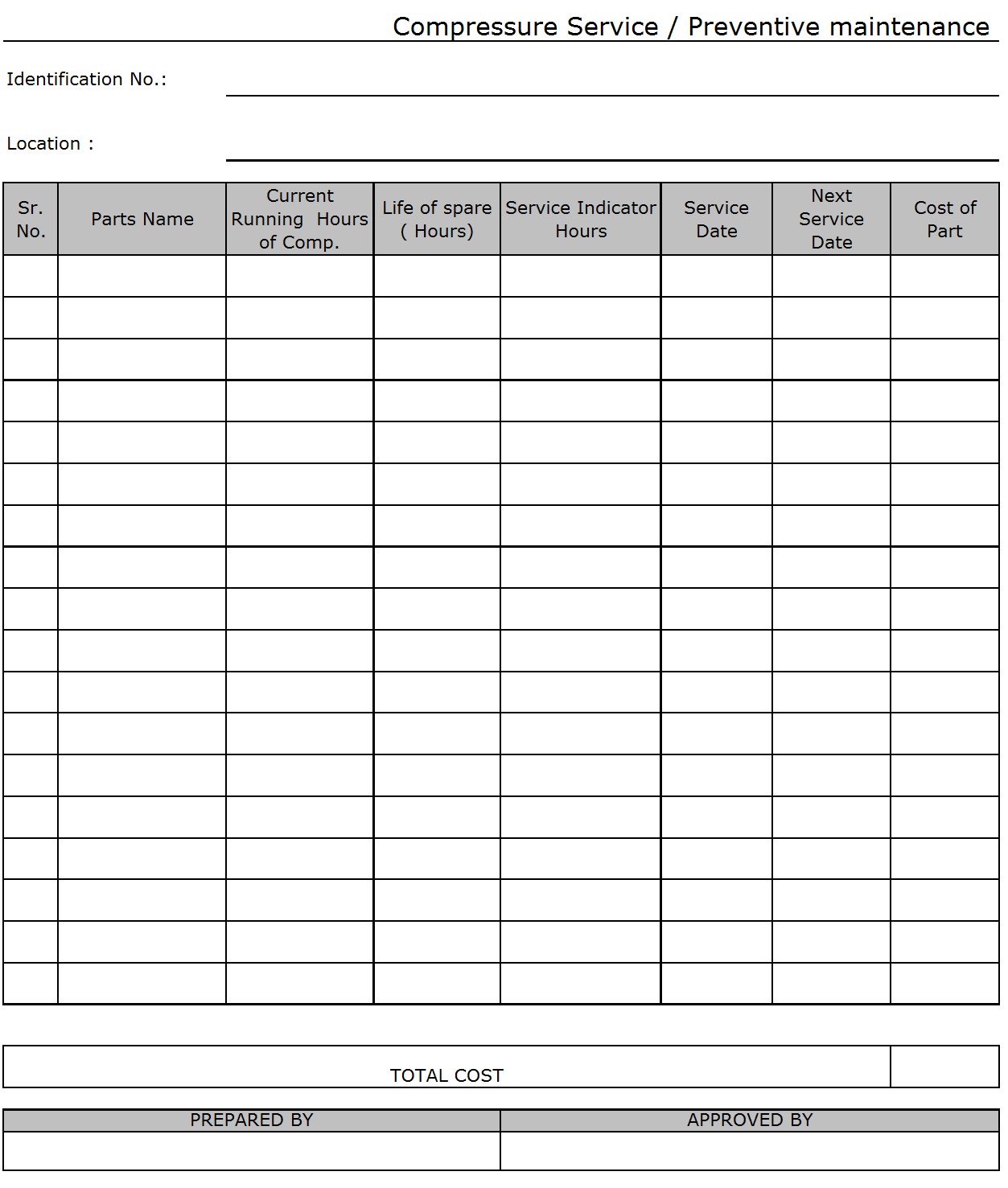 EXAMPLES, SAMPLES & FORMATS
You would also like to read:
| PREVENTIVE MAINTENANCE SCHEDULE | MAINTENANCE RECORD FORM | MACHINE MAINTENANCE PLAN | TOTAL PRODUCTIVE MAINTENANCE (TPM) | HEAVY EQUIPMENT INSPECTION CHECKLIST | CRANE & LIFTING EQUIPMENT SAFETY INSPECTION CHECKLIST |