Customer acceptance documentation
Customer acceptance documentation is prepared for record information of acceptable criteria and customer suggestions, comments for acceptances of project.
Customer acceptances documentations are prepared by project manager to take approvals of customers, and communicate with customer through document on the level of acceptances of its own criteria of customers; project requirements and other acceptances are conducted for the project improvement and provide customer satisfaction. The project manager is prepared document and conducting all the concern activity, on the completion of project customer are verify records and activity of project and compare its own requirement and its end application requirements with the project, in case the project is established for the product and services that customer is conducting on direction to verify & approved to considering product and services requirements. On identified complies of the project with required criteria that customer are approve project and instruct for improvement and suggest some required, modifications or amendment in project if required.
Customer acceptance concern documentation and processes are conducted by project manager and responsible for conducting all activity of get the approvals from customer of existing project, all the approvals from customers and its documentation prepared by project manager and convince for project approvals. Project manager conducting basic document which through approval process are established and the format is customer acceptance form where all concern information of project is mentioned, requirement of customers and project requirements involved against the condition of project describe in brief in the customer acceptance form, if customer accept the condition that customer approve project through approval format. Here as below given format for reference, see picture below of customer acceptance form for education purpose: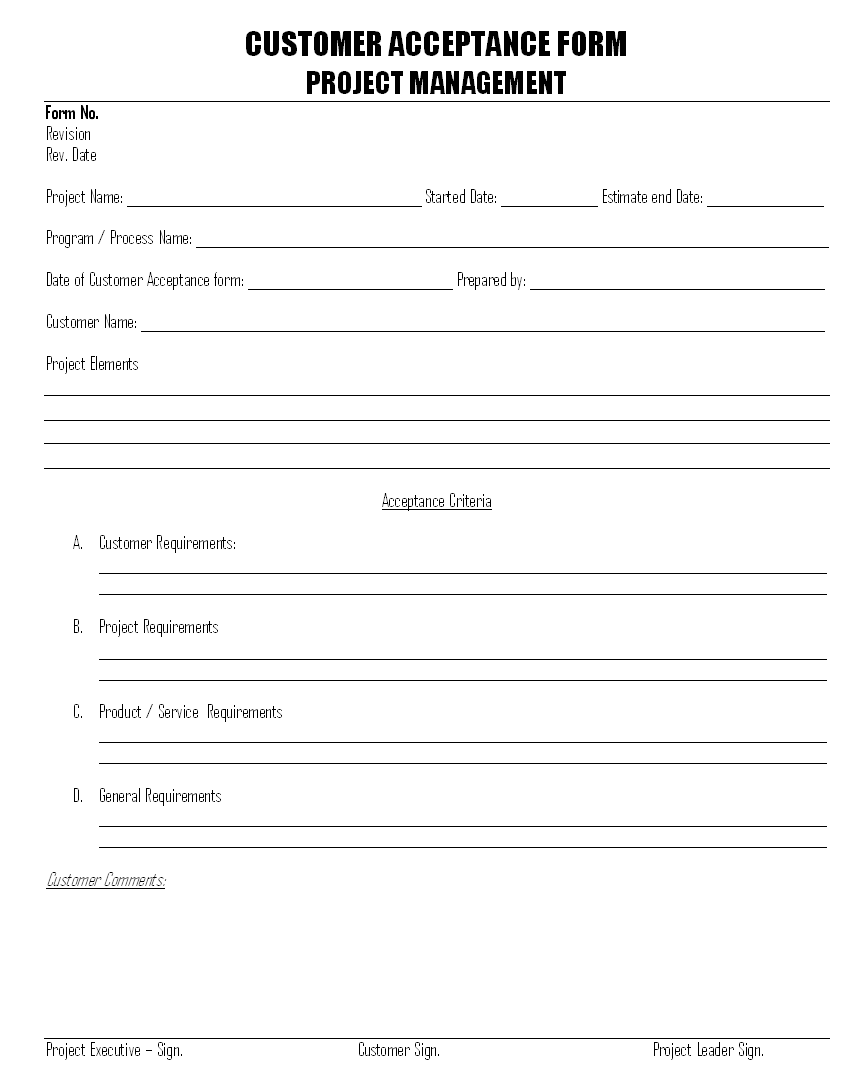 Customer focus on the project progress and compare the requirements are provided to project leader for met its end application requirement, the system of customer approvals are depends on the basic project elements that depends whole project success, that are acceptance criteria which is defined by customer and project leader during the contract of project establishment. The basic acceptable criteria are:
Customer requirements
Project Requirement
Product / Service requirements
General requirements
For the approvals of project, customer are verify documentation and project all the required sides that should meet acceptable criteria, and in case any non compliance are identify that project leader should determine action on comments are given by customer as non compliances.
—————————————————————————-
Download format in word document | Excel Sheet | PDF format
—————————————————————————-