Daily Laboratory / Office Cleaning Record Sheet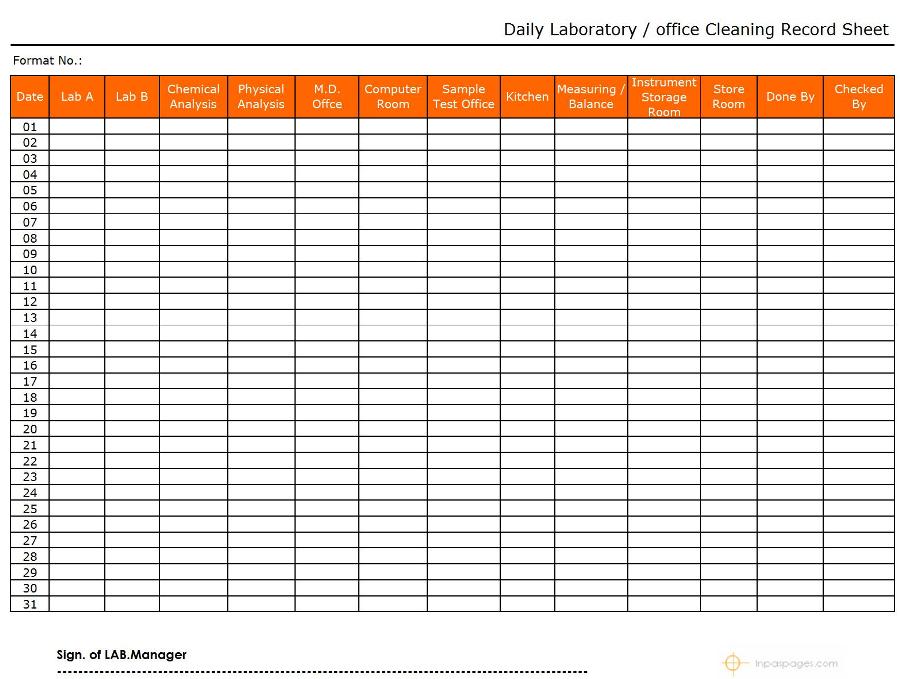 Cleaning is primary requirements of any kind of unit & its is laboratory that cleaning is very important the all credit are depends on cleaning, visitors are very first see the cleaning if the it is laboratory as same instrument / equipment also need to timely cleaning from dust & oils frequency.
A primary requirements of Laboratory is cleaning that its should be need to monitoring thought various method, very best method is assign the duty to some one that daily check the all area that are done by cleaners, off course that duty of human resource department.
In the Laboratories, micro dusts also can reflect the result of testing materials that taken as samples for the testing for various test, cleaning methods are also need to select very care fully almost all the labs are used instruments of cleaning.
For this primary ISO 17025 – requirements, here you can download readymade format for laboratory / office cleaning record sheet as below:
Download ISO 17025 Laboratory required Documents, Formats
Daily Laboratory / office cleaning record sheet in excel format
Laboratory / Office Cleaning record sheet Format / Example / Sample / Template Download for ISO 17025
———————————————x———————————————
Related Topics: