Customer quality test approval process
Customer quality test approval process established to conducting quality test on witness of customer representative for product's quality approvals as per standards.
Customer quality test approval procedure is established by quality department for conducting product's quality test to arranging witness of the customer representative, and manage all the product quality and it's test for customer approvals, the quality tests are conducted as per product standards, quality management and customer' technical and specific requirements. customer quality test approval is system which quality department is given assurance to customer for the product quality, for the verification of the product quality and other requirements, customer representative / third party inspection agency which appoint by customer is visiting supplier end and conduct witness of all quality tests are required for products, end application requirements and product standard / technical requirements, on satisfaction of customer representative of each quality test that managed reporting and document for quality test, all approvals are conducted in line with product standards, customer placed orders and technical sheet.
Customer quality test approval process and its concern activity is managed by quality department, quality manager is responsible for communicate with customers, internal production lines & ensure the product are on final stage to arrangement of the quality test to witness of customer representative, quality manager is also responsible for managing all the quality documents, quality tests requirements, product standards and other requirements which is directly impact on quality of product, customer's representative is conducting those tests and reporting to customer for quality results and condition product, on approvals of representative and customer end, product can be possible to deliver to customer, otherwise the product should re-works or schedule for further process. for the conducting the documents and managing drafting of the sample for the reports for provides document to customers and internal used, customer quality test approval sheet is used during quality test approval process, see picture below given as example format of customer quality test approval for education purpose: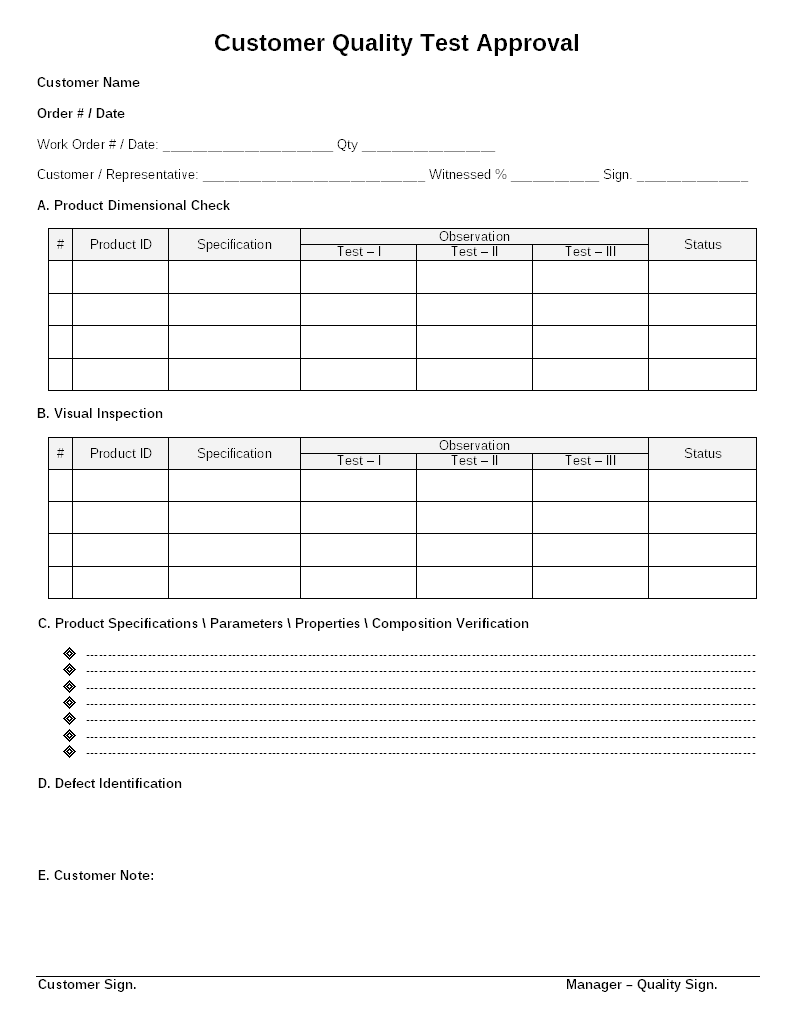 Customer quality test approval format is used during product's quality test and approvals process, the document is used as the draft format that covered all the details and activities of the quality testing are conducting during the quality test of product activity. The format also covered details of product standards and specification that each test and quality activity are easier for compare and managed for each process of testing, the product testing and its records are maintained on base of the activities are conducted during the quality tests, but the customer quality test approval format is also covered details as default requirements which is concern with product standards and those testing and quality requirements are also conducted in case customer had not mentioned in technical sheet, but its is managed on base of the product standards. the documentation are handled and storage as quality department and records are managed as per document and controls standards.
——————————————————————-
Download format in word document | Excel Sheet | PDF format
——————————————————————-