Customer satisfaction document
Customer satisfaction process or procedures established to determine standard method to document and record customer survey for improvement of quality for product & services.
Customer satisfaction procedures or process are prepared, maintain and update by marketing department to determine standard method which is deployed on base of standard requirements, customer requirements and its suggestions, opinions and complaint, document system & customer satisfaction survey, complaints and concern documents are helps to improvement of product quality, sales after services. Customer satisfaction documentation are established to conducting customer opinions, suggestions and comments or complaints that concern with product or services that indicates weak side of company that all the feedbacks are helps to used as analysis to improvement of product quality and services appropriately. Marketing team determine actions required on feedback achieved from customers which is collected through customer satisfaction documents.
The purpose of the customer satisfaction documentation and its system deployment in marketing for conducting customer feedback to determine proper solutions and preparation of actions for product and services' quality improvement by the determine standard method, standard method are decided as per requirements of system, international standard requirements for products and services that standard methods are established for determining documentation for customer satisfaction through customer feedback which in form of complaints, comments and suggestion that helps to enhancement in internal management system, to proper handled and analysis of data collected that helps to identify treats for product improvement and deliver quality product to customers.
Marketing department is responsible for preparation of customer satisfaction documentation and concern processes, marketing team is conducting customer satisfaction survey and sending to customers for conducting survey form to each customer and get the feedback from customers, customers' feedback can be in form of suggestions, complaints and comments that all conducted and analysis of each feedback to identify higher complaints and its behind reasons to determine actions plan and conduct actions on each reasons of failures or complaints. Marketing is also responsible for conducting and forward each customer feedback to appropriate department, hence department head is responsible to conduct each complaints or suggestion for implement at unit's floor. Overall marketing and concern department motive is to achieve full customer satisfaction. The procedure applied to the entire concern department and its related activities, services and product concern. The format used by marketing department to conducting all information i.e. feedback from customer is customer satisfaction survey form, here as below given example format for education purpose: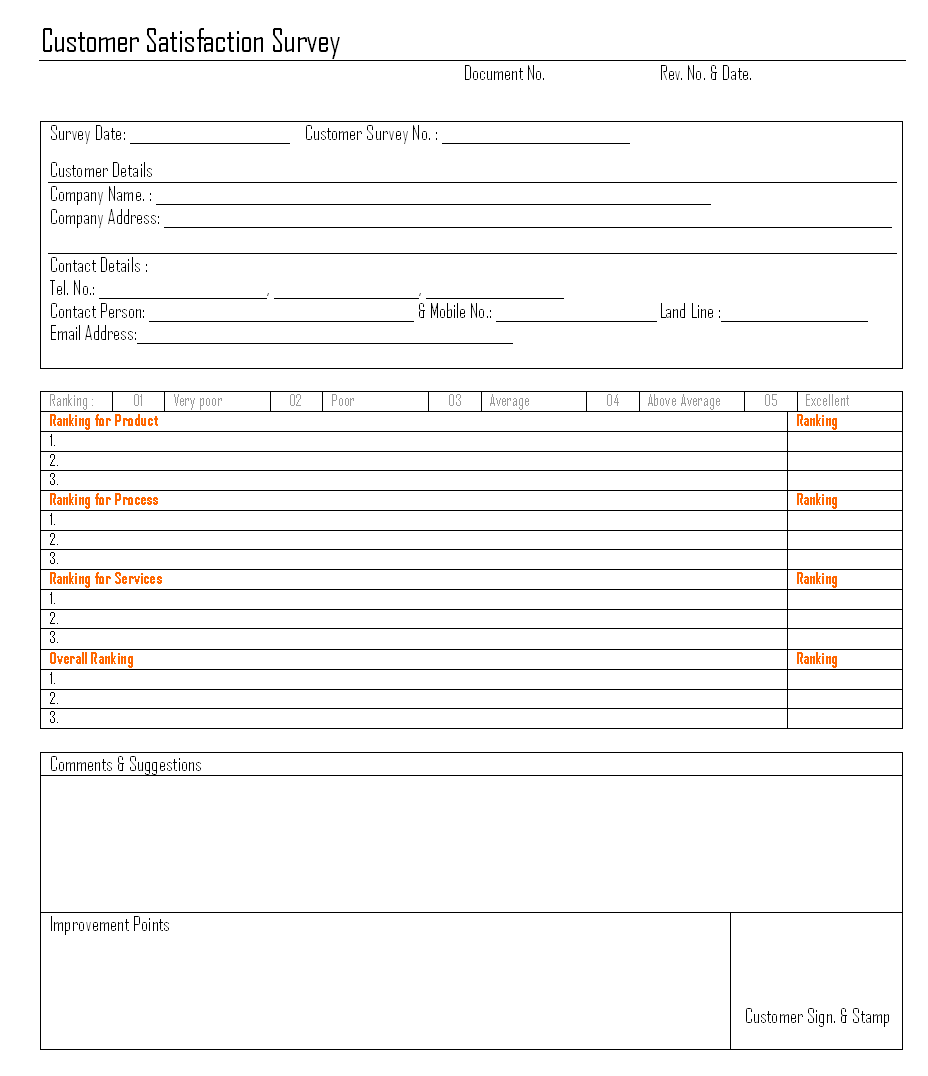 Marketing department prepared document customer satisfaction documentation is determined by various methods, and very effective method is customer satisfaction survey that directly all the concern information can be achieved,  information which are collected from customers are analyze customer satisfaction surveys and prepare a customer satisfaction trend analysis. Management is considering all the complaints and comments received from customers, all the trend analysis are reviewed by management for possible changes.
——————————————————————
Download format in word document | Excel Sheet | PDF format
——————————————————————