Food product purchase inspection – FSMS
Food product purchase inspection process is considered for conducting inspection process for food product / material purchase to producing finish food products.
Food product purchase inspection process is conducted for managing each inspection processes on raw materials and materials that used to producing finish food product are verified, inspected as per standards requirements, the procedure of food product purchase inspection is conducted on each incoming materials that directly concern with final product can effect on food product. Food product purchase inspection is conducted to maintain internal management system requirements and maintain standards of food product that needs much care to consider quality food to end users. The process is established on incoming materials and storage materials that needs to inspect as per frequency defined by management to conducting inspection process.
Food product purchase inspection process is conducted by quality department, quality manager is responsible to managing inspection process, selection of qualified inspection for conducting testing and inspection process, monitoring on each activities of food product inspection and documentation. Hence purchase manager is also responsible for managing / arrangement for quality testing and inspection for purchased and storage materials to concern inspectors are conduct testing and inspection for identification of product quality requirements with materials and non-conformance as per standards. Quality inspectors are conducting food product purchase inspection processes for each incoming materials and records are maintained for the same, the records are managed during the inspection processes is food product purchase checklist used to verification of food product purchase and storage at various location, see picture below given as example format of food product purchase checklist for education purpose: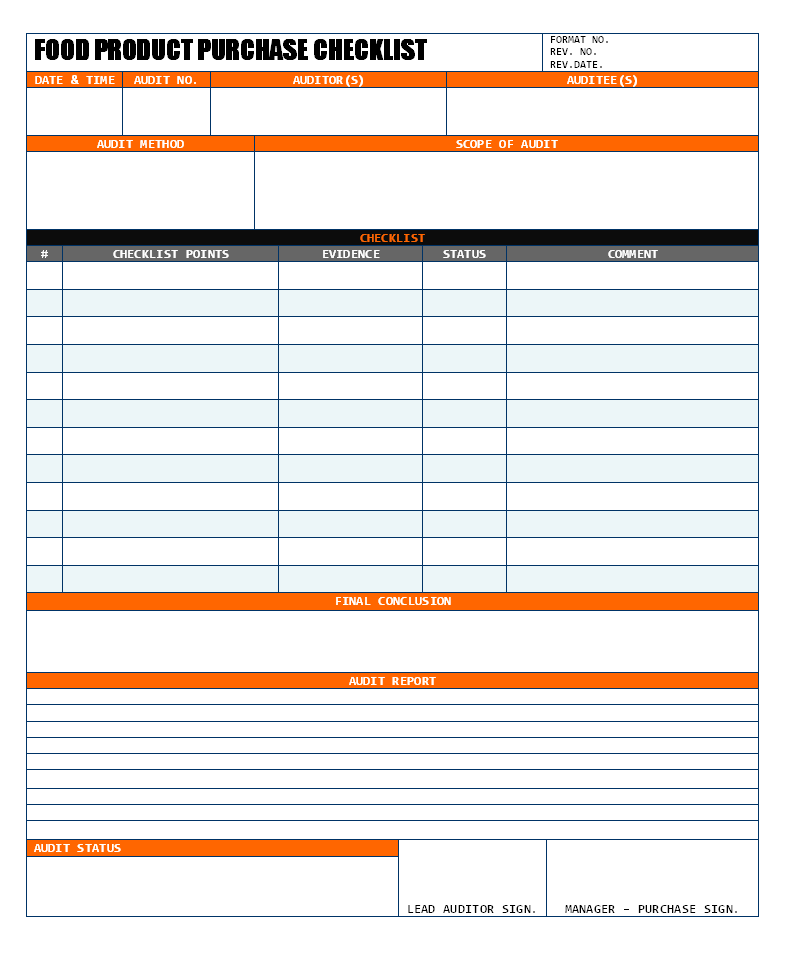 Food product purchase checklist covered detailed information of inspection requirement that conducting basic requirements, the records for food product purchase maintained as per inspection process and procedure for the documentation, storage and disposal is maintained as per internal management system requirements.
——————————————————————————
Download format in word document | Excel Sheet | PDF format
——————————————————————————