Daily task tracking record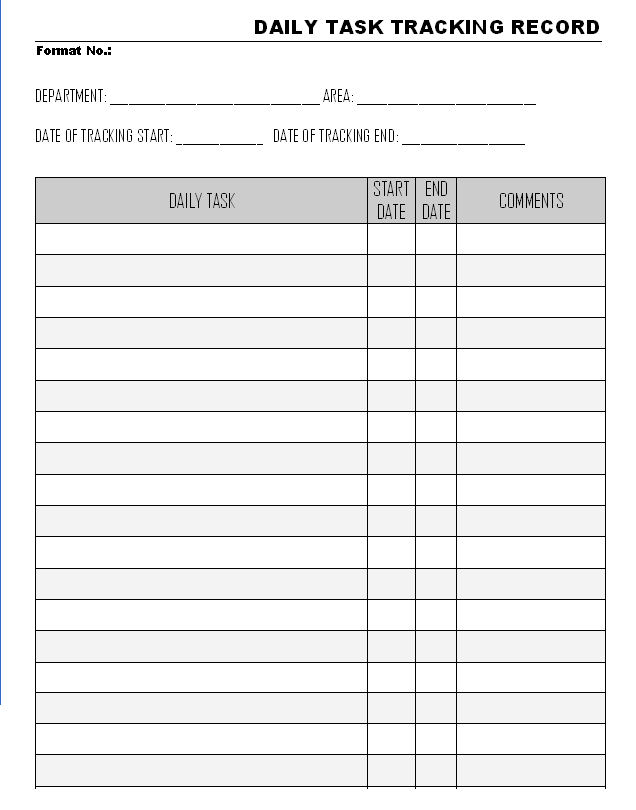 Within the department when head of the department defined work task for any employee or for all the department peoples that needs to follow up of each activity to performance of the task improvement, enhancement in productivity to complete those task in time frame or as per schedule / planning.
In the daily task tracking record, defined task follow up information as merge to possible tracking each activity individually for particular project, individual employee performance and task progress in line with requirements of the time limits. For daily task tracking record, following information can used as format:
Department Name

Area / Location / Machine / Particular portion of the department

Date of works tracking start

Date of works tracking ended

Daily Task information / Full description of the daily work task its can be employee individually or multiple employee should perform single task together as team.

Date of the Daily task start

Date of the daily task end

Comments
As above simple format can be used for the monitoring on daily tracking of each activity of the employee whose are working under department, when the more employee working under single manager that, for manager difficult to remember works for individual person what task was defined and what is the status of it. Hence this format is helpful for the department head.
EXAMPLES, SAMPLES & FORMATS