Defective Equipment Return form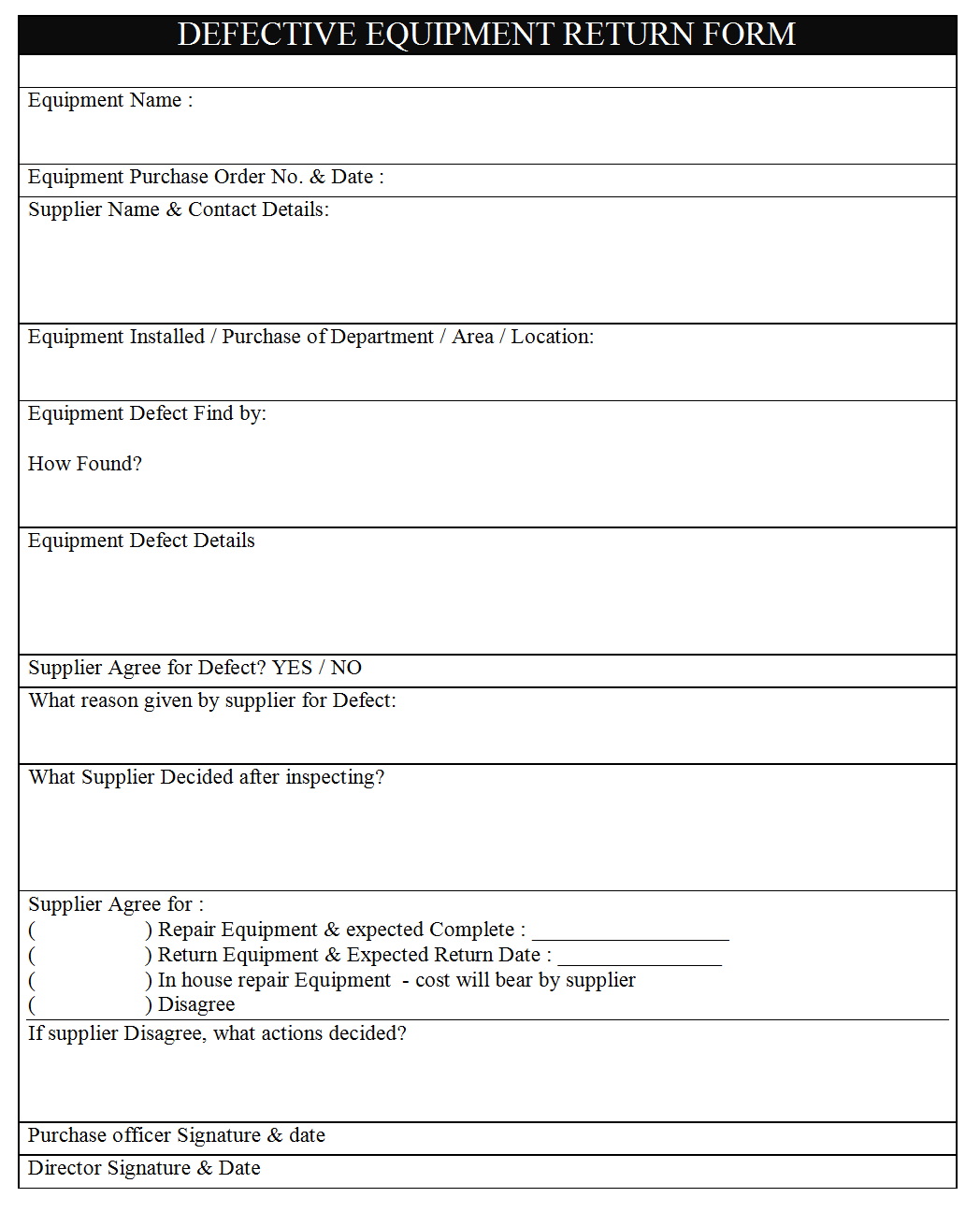 When the company purchases equipment from supplier, during the installations, operation in case any defect found that equipment should guarantee or warranty for equipment, so company can be place the order for replace, request for repair to supplier for defective equipment. For the defective equipment return form is widely used in industry due to each company who is small scale to big scale industry that required equipment for the manufacturing supports, hence this form is very useful to concern equipment and internal system. For the defective equipment return form, here as below given example format:
Equipment Name and Identification number

Equipment purchase order number and date

Details of supplier & contacts who had supplied equipment.

Equipment installed / Name of Department for purchased equipment, specific Area, Location Name to exact location can be possible to trace.

Name of the person who had find defect of equipment, designation and department details, and also investigate which process, what works he had performed, how found this defect in equipment.

Full Details of equipment defects to claim for the replace or repair equipment, this information is very useful for the suppliers for repairing or replacing equipment.

Supplier Agree for Defects? This is very important for customers that if supplier having a any other technical information, there are also possible that there were operator mistake to operating equipment & equipment not performed as reason the supplier can be disagree and given solutions / training or information for operating, handing, maintain of equipment.

What supplier decided after inspecting equipment conditions and information which passed by customers, details of supplier view and decisions.

Supplier having some conditions as below:
–         Return equipment & Provided as replaced equipment before date
–         Repair equipment and returned before date
–         In house repair equipment – cost will bear by supplier
–         Disagree
If supplier is disagree what actions decided?

Signoff of purchase officer and directors of company.
EXAMPLES, SAMPLES & FORMATS