Dimensional inspection Report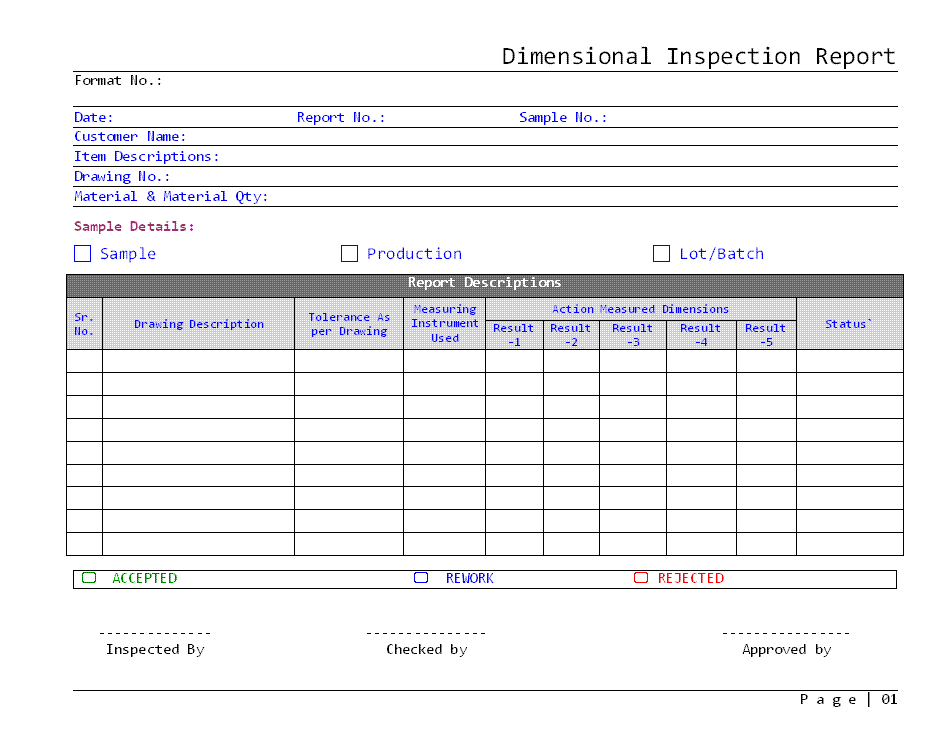 Dimensional inspection is one kind of sample testing that concentrate on dimensions of the material and dimensional tolerance as defined as criteria of acceptance.
Dimensional inspection reports are generate for the sample testing on various level that can be basic samples testing of dimension, in between randomly taken samples from production line that is also called sample testing but during production operation and also can be lot wise or batch wise samples randomly taken as per sample plans.
Sample testing as per sample plan can be different testing criteria than dimensional inspection; in the dimensional inspection all the concern the sample dimensions are checks with by various methods and various types of test, there are three to five different test with nos. of testing that multiply tests are done on single sample to ensure the result of the dimensional testing is accurate and reliable for the further actions.
Dimensional Inspection process ends that match with drawings which form prepared by development and planning department to ensure as per drawing material / part is accurately designed for the application requirements.
Dimensional Inspection report, major require and need to focus on follows points:
Drawing of material
tolerance as per drawing requirements
measuring instrument
Action measured dimensions
status
accepted  / rejected / rework
above all six major requirements and all remains are informative fields that support to identify of the materials, there are one more important fields are sample details that samples are taken randomly, production and lot or batch, this is mandatory required fields to identify on which stage sample is taken.
Download Dimensional inspection Report in Excel sheet format
Dimensional inspection Report in word document format download free
Dimensional inspection Report PDF / JPEG Format / Word Document / Excel sheet
Dimensional inspection Report Samples
Dimensional inspection Report examples
Dimensional inspection Report template