Competence evaluation of workmen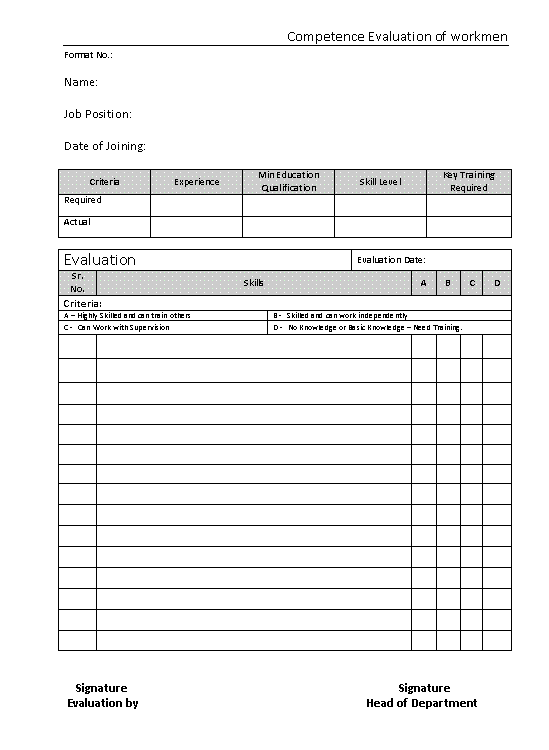 Human resource department or personnel departments as well staff welfare officers are always concentrate on bottom line peoples for more awareness and training to execute various system improvement for the company growth. For the company growth is necessary to bottom line should be fluent in subjects that need to awareness of the international standards requirement to concern workmen or human health and safety requirements for the same legal requirements are also need to understand as required limits.
Competence evaluation of workmen is not single time process, when any work man joint the company at the movement department head is provides a basic training to operate machine and work instructions and concern requirements of the basic routine requirements, there are not stops when work man understand routine work as well as machine operating, but after the system concern trainings are also very important to understand bottom line as the second part of the requirements of training is system concern training to enhance of knowledge  & continual improvements.
Competence evaluation of workmen is given on background of workmen, some workmen can be lead the other that is advantage of company, single workman gives the training to its department peoples in its own language to others can understand him easily.
For the requirements of bottom line peoples, human resource department can get the ready made format for the competence evaluation of workmen format in excel sheet / word document format:
Download Competence evaluation of workmen in word document format
Competence evaluation of workmen Simple Format
Competence evaluation of workmen sample format
Competence evaluation of workmen example
Competence evaluation of workmen description / Definition
Competence evaluation of workmen Word Document / Excel Sheet / PDF Format
Related Topics: