Document revision process
Document revision process is established to managing all changes and effects with documentation system to ensure all steps are completed.
Document revision process is established to ensure the documentation system requirements, applicable changes and effects are conducted properly & all steps are completed. The system is deployed for verification of documents which system required effects are managed, in the documentation revision are conducted on some reason that all the reasons and effects due to it, should covered. The document control are conducted by management representative which is coordinate & handle process of documentation where verify that all the required steps are conducted, and ensure the document is properly handled and verified by concern department. Document revision process is conducted when any internal department are request for change any document / format by cause of internal system change, machinery and equipment change, method or any other change that needs to document change are conducted, on base of the department's requirements document is conducted for change and revised accordingly. When the document / format is changed that needs to change in master list of document that should also changed as per change made. Document revision is process where on each change revision number and date are provided on the document / format for identification of particular document change effective made, the process is conducted by management representative with contribution of department head.
The document revision process is established by management representative as per internal management system standard which is adopted by international standards. The system is deployed to ensure the document is properly handled and all steps are properly conducted. The document change effects are conducted in master list as per document revision are made, for the verification of the documentation and its effects, changes, revisions and other important details, management representative is conduct document revision checklist where all the details are mentioned to verify document revision and applicability of revisions. See picture below given as example format for document revision checklist for education purpose: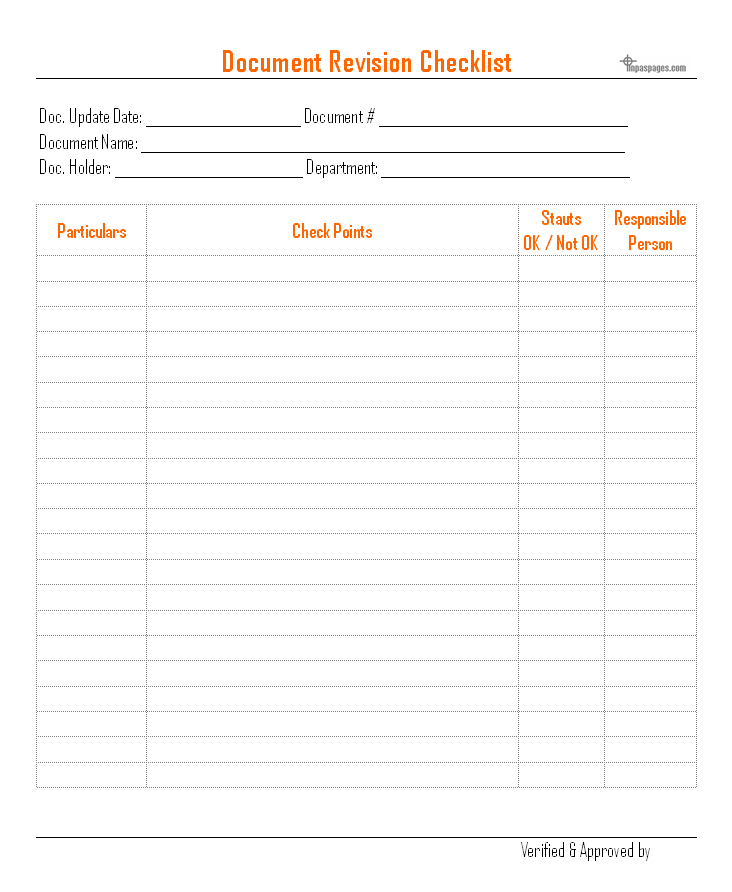 Document revision checklist is the format through management representative verifies details and ensures that the all required changes are made in document. Generally document revision process is established on information using the document change request form which is the request from various departments to change the document. On completion of verification, documents are being approved and distribution is complied, the document approvals are conducted as per original document approved. In the document revision checklist master list are updated according to revision requirements there data, records and related information of change are managed, there are also verify affected other document due to change of document and new reference numbers are details are merged as new reference. In the change which is considered as revision that is managed and concern peoples are aware by training; all changes and effects are managed in the training for revised document handling and conducted in system.
——————————————————————–
Download format in word document | Excel Sheet | PDF format
——————————————————————–