Emergency evacuation drill observer's report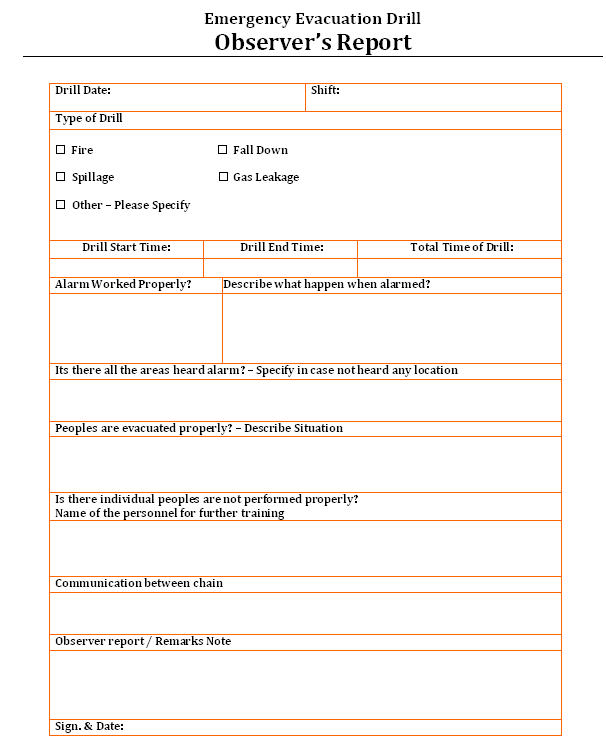 Emergency evaluation is exiting form the situation from the emergency from all potential emergencies, including fire emergency, explosion, accident, weather conditions and any accidentally violence from an outside source. For the preparation of those emergency pre-attention and well training for the extreme situations that need to drill (rehearsal) of such emergency as pre-understanding of the possible cause of the accident in emergency situations. Emergency drills are two types:
Emergency drill planning are planned by committee, consisting each quarter / year to ensure all the peoples are well aware of the emergency situations and how to fight against conditions. Emergency drill or mock drill is helps to peoples are working in areas at time of emergency by preparation of quick understand situation. In the emergency drills emergency response is very important, after the completion of the drill, observer team are record timing and compare with previous drill time to ensure the progress of the people response, in case found dissatisfactory that re-training are arrange for particular emergency.
Emergency evaluation drill overseer role is very important that all the recorded information are proper analysis and identify for further needs of particular emergency training, in the emergency following types of observations are records:
Drill date / time and shift
Type of drill (Can be fire, Fall down, Spillage, gas leakage etc..)
Drill Start time / Drill end time and total time of the drill
Alarm works & condition of the alarm is properly worked at time of emergency
People response at time of evacuation
Results of the observer
On base of the emergency evaluation drill observer team reports and observations – management is decided for the individual training, departmental training or full training to all the peoples are working around the area where emergency mock drill arranged for the awareness & emergency response.
EXAMPLES, SAMPLES & FORMATS